October 27, 2017
I'm not much of a shopper, but I can be convinced to tag along with others who want to spend money.  This morning, we took the metro to the Opera area, where some of the larger department stores are located – Galleries Lafayette and Galleries Printemps.  A series of multi-floor buildings, each targeting a different audience.  One Lafayette building has nothing but Women's clothes, accessories, shoes, and perfume (beauty products has its own building).  Another Lafayette building has men's, another has home goods, and so on.  The same for the Printemps.  
Unlike department stores in the US, these department stores are stores within stores.  For example, at the women's Galleries Lafayette, each designer has its own small store/area – so you can walk from designer to designer without leaving the building.  The problem with this kind of shopping is the word "designer."  This was not Target or even Macy's; this was high-end stuff.  Sindy found two sweaters on sale at a reasonably priced "store" at Galleries Lafayette.  Oh, and they already had their Christmas decorations up. Last I checked, it was October.
We saw some pretty wacky "couture" clothing and some way out shoes. Not sure who buys this stuff.
Sindy wanted to have coffee and lunch at a quintessential Parisian corner cafe, so we chose Café de la Paix because it was close by.  Unlike most corner cafes in Paris, it had a glass partition between the people walking along the sidewalk and the diners, but it didn't impede our people watching ability.  Sindy's coffee was delicious and we shared a typical French ham, butter and cheese baguette with French fries (of course).  Enough to tide us over until later.
We made a wrong turn and found ourselves back in Place Vendome, the location of the famous Ritz hotel.  It seemed like fate, so we had to go in and take a look around.  We were only allowed in the shopping gallery and public spaces, but it was enough to get a sense of the luxuriousness of the Ritz.  Maybe someday.  Sindy and I promised each other that the next time we come to Paris, we would at least have high tea at the Ritz – it looked amazing.
Back on track, we headed back towards Tuileries Garden and the Orangerie Museum on the other side of the gardens.  The Orangerie was the first Impressionist Museum and holds the eight large panels that makeup Claude Monet's Water Lilies.  On the first floor, there are two oval rooms, each housing four of the masterpieces depicting the water lilies of Monet's Japanese Garden at different times of the day.  It took Monet 12 years to complete the paintings, some of which were completed just before his death.
As we contemplated the works, both Sindy and I wondered which of them had been done last, when his eyesight was failing.  We each picked different works.  We agreed, however, that we could see which parts of the garden he was painting having seen it first hand the day before.  For example, the weeping willow trees in the above painting – we knew where he was when he visualized the painting.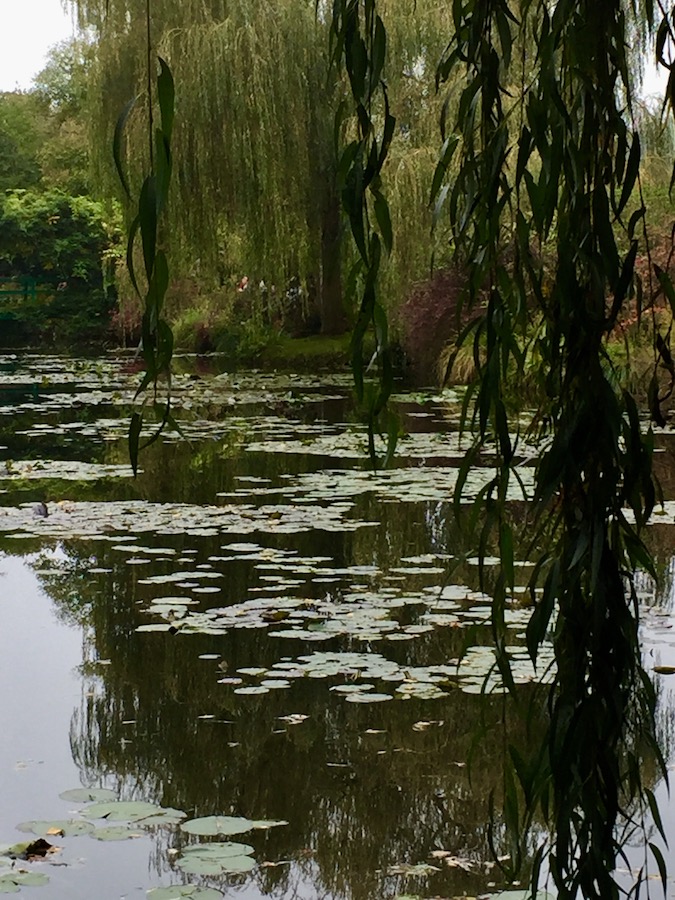 There are benches in the center of each room for patrons to sit and appreciate the works of art.  People even spoke in hushed tones, respecting the contemplative air.  All was calm until the security guard yelled at a couple of clueless tourists who swung their backpacks around and almost hit one of the canvases.
I could have stayed for hours, but we headed down to the bottom floor to check out the Jean Walter and Paul Guillaume Collection.  Paul Guillaume amassed most of the paintings while he was an art dealer.  While some of the collection is not to my taste, he had several Renoirs and a few Monets, Gaugins, and Sisleys that I hadn't ever seen.  A remarkable collection, much of which he and his wife kept in their apartments.  I can't imagine having that much fabulousness in my home.
From the Orangerie, we walked along the Seine River back toward the Eiffel Tower. Our goal was to take a river cruise (not a dinner cruise).  There were a couple of choices of tour companies, but we decided on the one found at the foot of the Tower – Bateaux Parisiens.  By the time we got underway, the sun was on its way down, casting all kinds of great light and shadows on the buildings.  We floated by many of the major sights we'd seen during the last seven days. 
It was a great way to cap off Sindy's first time in Paris.  The only problem was that we had dressed for the mild weather of the day and forgot that it would be chilly on the boat.  As the trip neared its conclusion, we were freezing; I could hardly feel my fingers.  Sindy got so cold that she put on one of the sweaters she purchased earlier in the day.  Not bringing a jacket was not a good decision on our parts.  (It would take the better part of an hour to get thawed out.)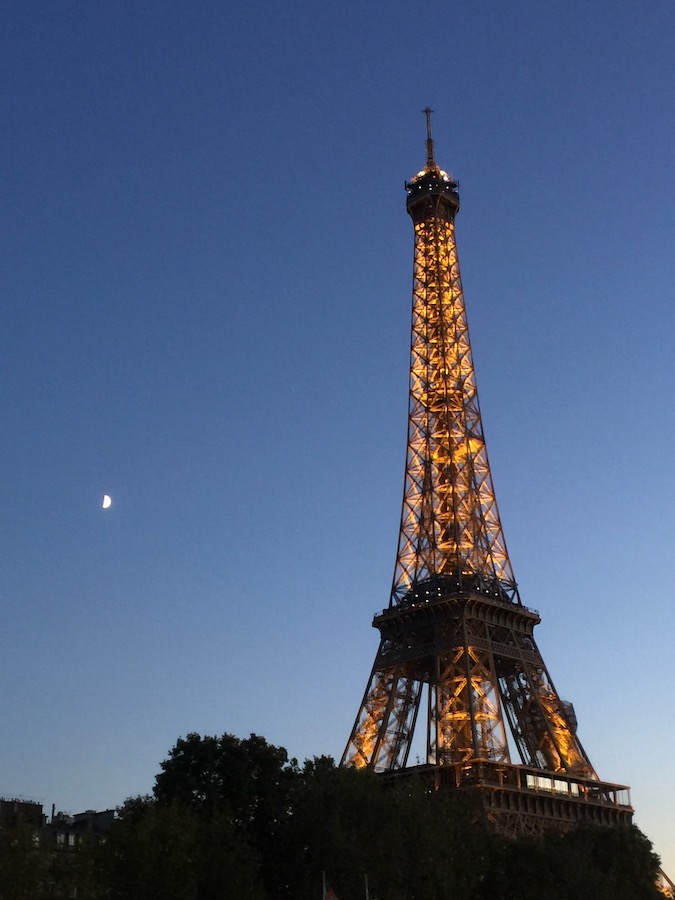 As we neared the dock, the Eiffel Tower lit up.  As it turned 7:00 p.m., the Tower began to sparkle, just as we docked at its foot.  It was a spectacular end to a fabulous week.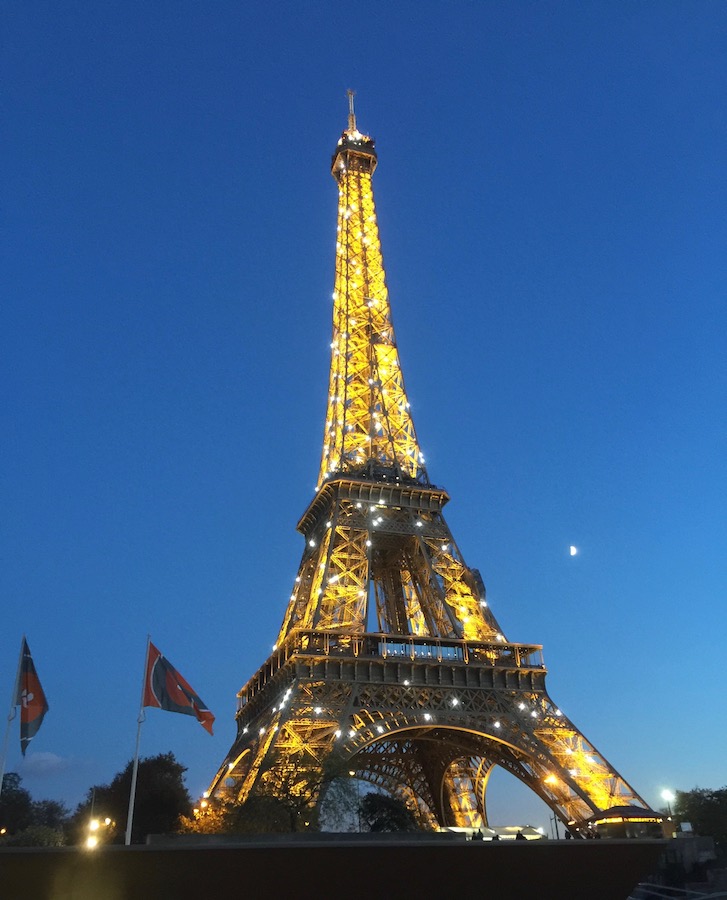 P.S. Sindy and I are horrible at taking selfies…