July 17, 2019
After a bit of a power nap, I decided that I couldn't leave Istanbul without taking a cruise on the Bosphorus. I didn't have time for the full day out into the Black Sea and back, or the hall-day tour that drops you off at castle ruins for a hike, but I did have time for the 90-minute down to the 2nd bridge and back option. So, that's the trip I decided to take.
By now, I was an old pro at making my way down to the Galata Bridge via a walk along the tram tracks. The architecture was familiar as were the uneven sidewalks, but the faces along the way are ever-changing. I love the diversity this city brings. I had read that one of the best (and cheapest) options for a cruise went out of the first kiosk to the right of the bridge, so that's where I headed. Still not sure that's where I ended up.
A boat looked like it was getting ready to leave, but there were still several people shoving their way through the gate past the person taking money. I probably should have waited for the next boat – but I didn't. I handed the gate minder 20TL and went aboard. Not an empty seat was to be had on either level. As I looked around, I noticed that I was one of about ten foreign tourists on board. Everyone seemed to be local.
Not to be deterred from having some sort of seat for the 90-minute foray, I made my way to the bow and found a metal step and sat. I would later share that small step with a revolving series of people, including a young woman who took selfies or videoed herself lip-synching to pre-recorded music on her iPhone the entire time. I'm not even sure she knew she was on a boat.
I would also be asked by a finely dressed man to give up my seat so that he could sit down. Since he looked fit, younger than me, and not in need of sitting, I ignored his attempts to unseat me. I received stares from him and what appeared to be his large extended family (I counted 2-3 wives) at my refusal, but I didn't let them ruin my experience. He later sat on a stool, pushing it uncomfortably close to me trying to block my view. I didn't engage him, knowing it wouldn't end well. Another gentleman came to my rescue and told him kindly, but firmly to move. Chivalry is not dead.
We left the boat dock with seagulls swirling above us and headed up the strait towards the two bridges in the distance. The water was a bit rough, which caused some spray, but in time the motion became rhythmic. I was so enthralled with the beautiful landscape as we floated by.
If I hadn't taken the cruise, I wouldn't have seen the beautiful homes cascading down the hills to the water. Nor would have I seen glimpses of the castle ruins, mosques, and stately villas further down the Bosphorus.
While I'm not sure whether all of the urban landscape belongs to Istanbul, there appeared to be several sea-side resort areas that would be cool to check out on a later trip.
At the castle ruins, the boat turned around, and we got to see everything from the other direction. Photos were a little more difficult because we headed back to port with the sun in our eyes, but it wasn't any less beautiful.
Arriving back, we docked in a different area, so I had to maneuver my way through thin alleyways, a bus depot, and a pop-up bazaar before I was back in familiar territory. Along my walk home, I spied a Mado shop and stopped in for a treat. I meant only to get one, but somehow two made it into my box.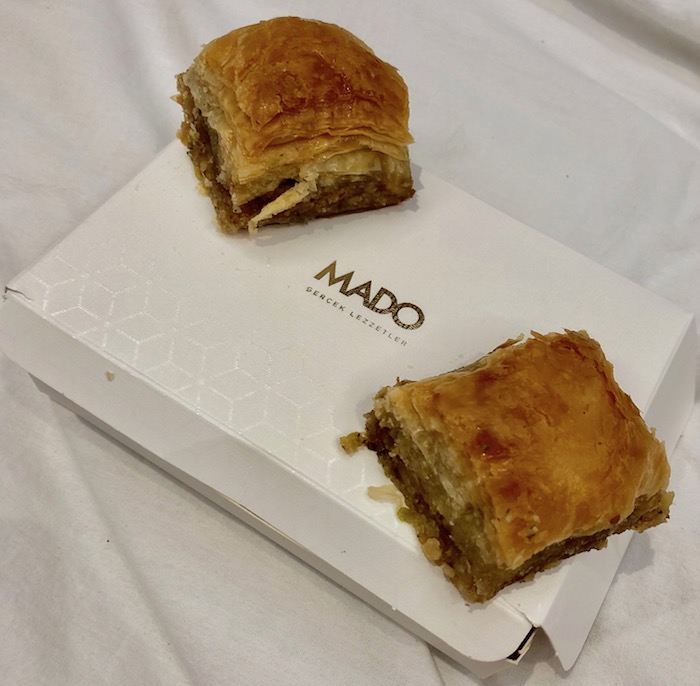 Istanbul from land or sea is a wonderful place. I've enjoyed my time here immensely and can't wait to return. After all, there is so much more baklava out there to eat.