July 24, 2019
I've been on many food tours, but the crown should go to today's Culinary Backstreets tour. Not only was there good food and wine, but there was fabulous camaraderie with the other guests and wonderful guidance by our leader Paul – all in 7 1/2 hours. Yes, 7 1/2 hours of food finds. We spanned breakfast, lunch, and an early dinner. It was Georgian hospitality at its finest – a truly exceptional day!
I was ready a little earlier than necessary, so I decided to head to the Sioni Cathedral of the Dormition partly because I hadn't been able to gain access earlier and partly because it was next door to the meeting point for the tour.
The Tbilisi Sioni (there are several other Sioni churches in Georgia) was initially built in the 6th and 7th centuries. Invaders destroyed the church several times over the centuries, but it was rebuilt each time. This current version was constructed in the 13th century but tweaked in the 17th and 19th centuries. The Tbilisi Sioni was the main cathedral until a new one was consecrated, but it still holds a special place in the citizens' hearts. I can see why.
Mass was occurring as I entered. Three ladies in the back of the church chanted harmoniously as the priests performed the service behind the partition at the altar. Georgian Orthodox masses can last from 1 ½ to 3 hours depending on if it is a holy day. The entire mass is attended standing up or kneeling. Wear comfy shoes if you plan to last it out. I had come in near the end, so I didn't have to stand in the back for too long.
The interior is gorgeous. I'm not sure I can fully express what it felt like to be surrounded by such beauty. For not being a huge space, every inch was covered in some type of painting, fresco, or religious icon. It was a bit overwhelming but glorious.
Back out in the sunshine, I met our tour guide Paul, a journalist and musician, who came to Georgia on holiday 18 years ago and decided to stay (he also ate with Anthony Bourdain in his Georgia episode), a young couple from Britain and Italy newly married 5 days ago, and a family of three from Colorado (their son Sebastian was seven and quite a trooper for the long day that lay ahead).
Our first stop was the bakery located under the seminary where I had been on my first walking tour. The puri (bread) was hot, fresh, and delicious. There was a lot of activity behind the counter at the tandoori-like ovens as the loaves were placed and removed at a relatively rapid pace.
A question was asked as to whether there is a breakfast culture in Georgia – there is not. Normally Georgians eat leftovers from the prior meal, or they might have matsoni, a creamy yogurt. Paul said that the best matsoni is made in the villages (never get the one offered in grocery stores), but he had been told of a place that sells exceptional matsoni nearby. Off we went in search of the virtually unknown (even by locals) holy shop associated with the Sioni Cathedral. I had walked by the entrance several times in my wanderings and never knew it existed – there are no signs. The holy shop sells a variety of fruits, vegetables, sweets, wine, and, of course, matsoni, made by villagers outside of Tbilisi. Paul purchased a few cups of the yogurt and a churchkhela to try as a breakfast snack (a chaser to the bread we'd already had).
The matsoni was a bit tart, but so smooth and refreshing. I envisioned having a cup with some honey drizzled on top and a smattering of granola – my mouth watered. I'm not sure how other matsoni tastes, but I'm sure my taste buds are ruined for anything other than what you can buy at the holy store. After the yogurt, Paul cut pieces of the churchkhela for us to try. It is a sweet made by stringing walnuts together, dipping the string into thickened grape juice (or other fruit juices) and then letting it dry. It basically turns into a thick fruit rollup wrapped around nuts. It is a really good snack. They call it the "Georgian Snickers."
We all piled into a van Paul ordered through Bolt (like Uber) and headed across town – at least I think it was across town – to the Dezerter Bazaar, a souk-like market that has existed for 100 years. The bazaar is spread out over a six-block radius and, although it appears to be a mish-mosh of everything, it has well laid out areas for distinct types of products. The vegetables and fruits are in one area; the meats and cheese are in another, etc. Everything is fresh and everything is brought in from the countryside outside of Tbilisi.
We arrived in the late morning after all the restaurants and many of the family women had already come to buy their daily necessities. It must have been exhausting as these two guys were in full-on nap mode.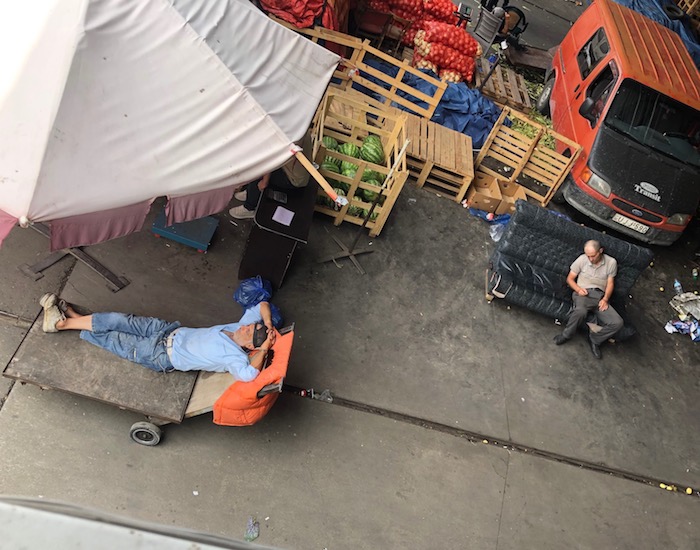 The produce was amazing – so brightly colored, so "just picked from the vine." The watermelons were seriously the largest I have ever seen.
What wasn't being sold "whole" had been made into sauces, jellies, and jams and bottled for sale. The tamali, a plum sauce, used on meat or anything else you want, was my favorite.
We passed by another bakery with the above-ground oven working overtime. We stopped for lobiani, mashed beans stuffed in thin layers of dough – kind of like a bean quesadilla. Delicious hot out of the bakery.
Wandering up and down the aisles of the bazaar, we entered one of the old buildings and climbed to the second floor for tastes from Paul's favorite honey purveyor. The man slapped generous swashes of different types of honey on the sides of our hands for us to try. Each was as sweet and yummy as the one before. I longed for some of the matsoni to pair with it.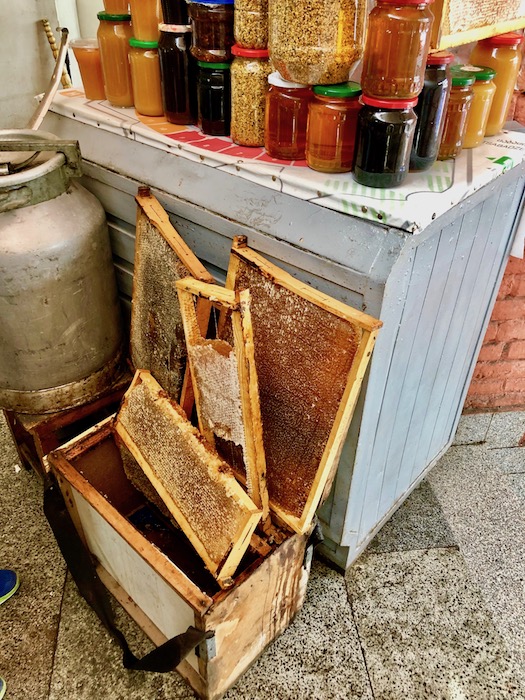 When the cheese guy next to the honey guy found out one of our group was from Italy, the conversation escalated into good-natured banter about soccer, politics, and whatever else was interesting (they spoke too fast for my limited Italian). And, of course, they talked with their hands in an animated fashion. I'm sure our Italian group member is quite the celebrity now in the cheese and honey section.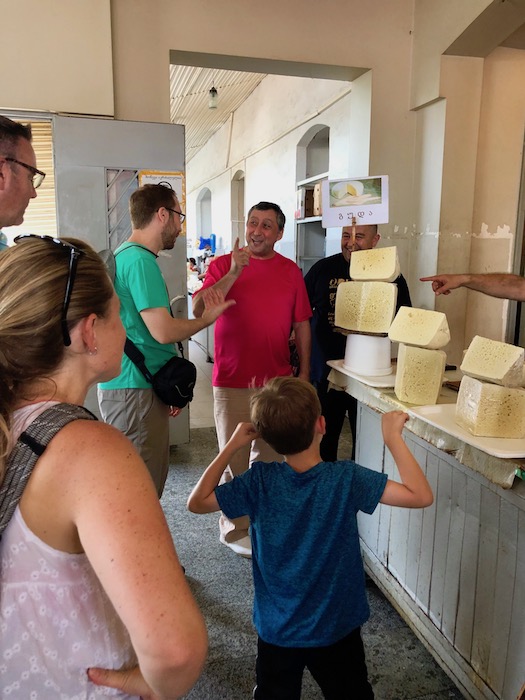 Speaking of cheese, there were so many kinds – all freshly made. It was cheese nirvana. We sampled pieces here and there from various purveyors. My favorite was the Imeretian cheese, which reminded me of the squeaky cheese curds I ate in my youth in Canada. I love it when food evokes good memories. I also enjoyed the "cheese inside of cheese" that we were given by one cheesemonger. I can't remember what types of cheeses were used, but it was the skin of one cheese with another cheese spread over top then rolled up. It looked kind of like string cheese but was so much better.
The youngest member of our group had a bit of a shock when it clicked that chicken doesn't just come from a supermarket in packages. He's quite the animal lover (stopping for each kitten or dog along the way). Despite his newfound knowledge, he was mesmerized watching a woman clean a pig for a customer for roasting. Once clean, the man picked it up by its hind legs and simply walked away with it through the market nonchalantly.
We had visits to the flour person (how the stacks of loose flour don't fall over is beyond me), Paul's nut guy, the spice woman, and Paul's sauce lady. The sauce lady took a liking to the youngest member of our group.
We also went to the area in the market where there are several pop-up stalls selling wine and chacha by the glass. Not much of a wine drinker, but even I knew this was just this side of something that could peel paint from a wall. Paul wanted us to taste the bad local wine before we got to the good stuff.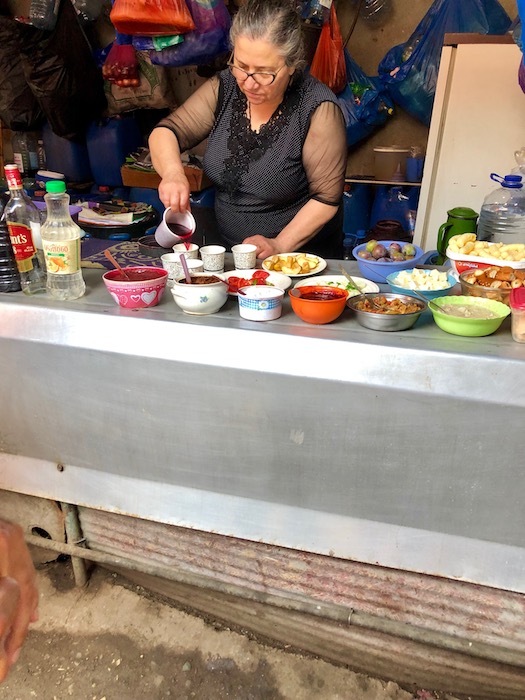 On our way out of the market, we stopped by the pickle king's stall for a taste – he pickles everything. I think the pickled garlic was the best, but his pickles (as in used to be a cucumber) were pretty darned good.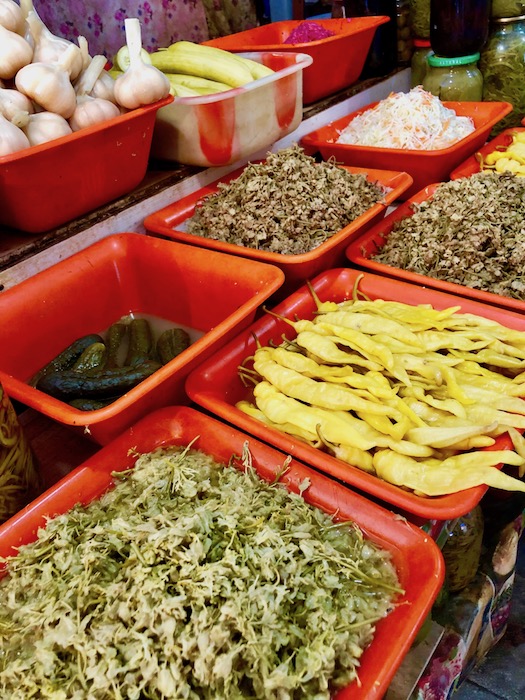 We couldn't grab an Uber big enough for the group, so we split up into two vehicles and hoped we arrived at the same place. We did. A nice street with newer buildings led us to Vino Underground, a natural wine bar, which we had mostly to ourselves. The woman in charge of the bar and Paul schooled us in the finer points of one white, one amber, and two red Georgian-made wines. Although I only had a little bit of each, the white was my favorite. I think I've had more alcohol on this trip than I have in 15-20 years.
Our last stop was for an early dinner/really late lunch at Ezo, an organic restaurant set in a lovely courtyard surrounded by buildings purchased by a Swiss family (the restaurateurs are not Swiss). The group's youngest was not interested in food by now, as there were dogs and kittens to look at and play with. The rest of us dined on a cornucopia of items – pates of spinach, aubergine, herbs and walnuts, sauces to be spread on bread, pickles, cornbread and honey, garden fresh vegetables, lobiani, sautéed eggplant, beans, veal stew, and a mushroom dish we all raved about. Nary a crumb remained when we were done. During the meal, we talked, debated, and laughed like old friends. Paul made the entire group feel so comfortable – he was the consummate host.
All too soon (7 ½ hours later), the food tour came to an end. Goodbyes, well wishes, and hugs were given all around – then it was time to find my way back to the hostel.
Down the way, I found an apartment to buy or rent – anyone want to go in on it with me?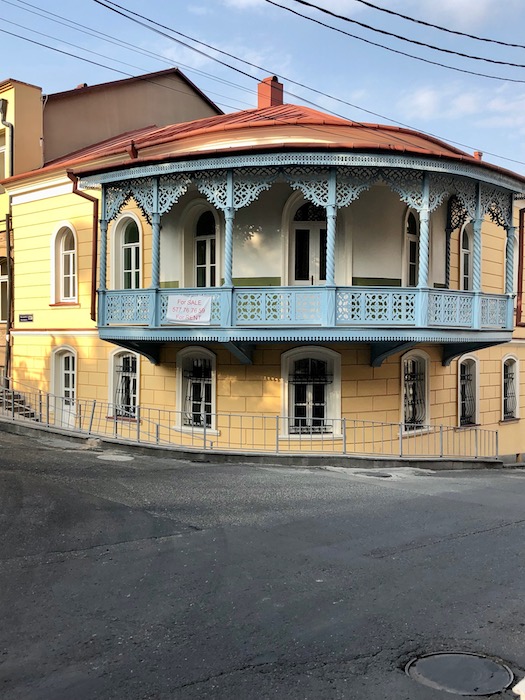 A little farther down the street, I got a good look at Mother Georgia standing high on the hill and passed by the local synagogue. I didn't go in as someone was blocking the door and my Georgian isn't good enough to have talked my way in. A peek inside the door around the bouncer's shoulder leads me to believe it's beautiful inside.
Halfway up the hill to the hostel, I met Marco (the Frenchman with Italian roots) from some of my other tours. We took a seat on the stairs and chatted like best friends until he had to go. I will miss our chance encounters and European cheek kisses.
Back at the hostel, I decided to check on my flight from Tbilisi to Kyiv. My original flight was for the evening, but I received an email in April that the flight had been moved to the early morning for "operational reasons." I tried to check-in, but the system wouldn't let me. I became a bit suspicious, so I checked the flight time online – it was listed as an evening flight. I re-checked my email to see if I'd had another change notice. I hadn't.
I ventured downstairs and asked if they could call the airline for me to check since I had two flight times. After 40 minutes of being placed on hold and then hung up on, the receptionist (who had loads of patience) called the airport, rather than the airline. They confirmed the flight was for the evening – 7:00 pm. Then she tried one last time with the airline and actually got through – they also confirmed the evening flight. I'm so glad I had them check. Otherwise, I would have had a long and uncomfortable 12-hour wait in the airport.
Ah, the joys of travel!