July 22, 2018
I guess this post could also be called "It's a long way to Tipperary…" as that was our first destination on today's trip. Although I hadn't had very much sleep due to the party crowd at the bar next to my hotel, I managed to pull myself out of bed and walk into city center to the pickup spot for a small group tour to the Rock of Cashel and Blarney Castle.
Although I was early (as usual), we were delayed because three of our group (we were only to be a group of 8) hadn't shown up. We waited an additional 30 minutes before our driver's office told him he could leave without them. I'm not sure why someone would pay good money for a tour and then just not show up, or at least call to cancel. Good thing was that, with a group of 5 on the small bus, we had plenty of room to spread out.
It was, indeed, a long way to County Tipperary… at least 1 1/2 hours. Our destination was the Rock of Cashel – a deteriorating cathedral set majestically on a hill overlooking pastoral farmland and a few other ruins off in the distance.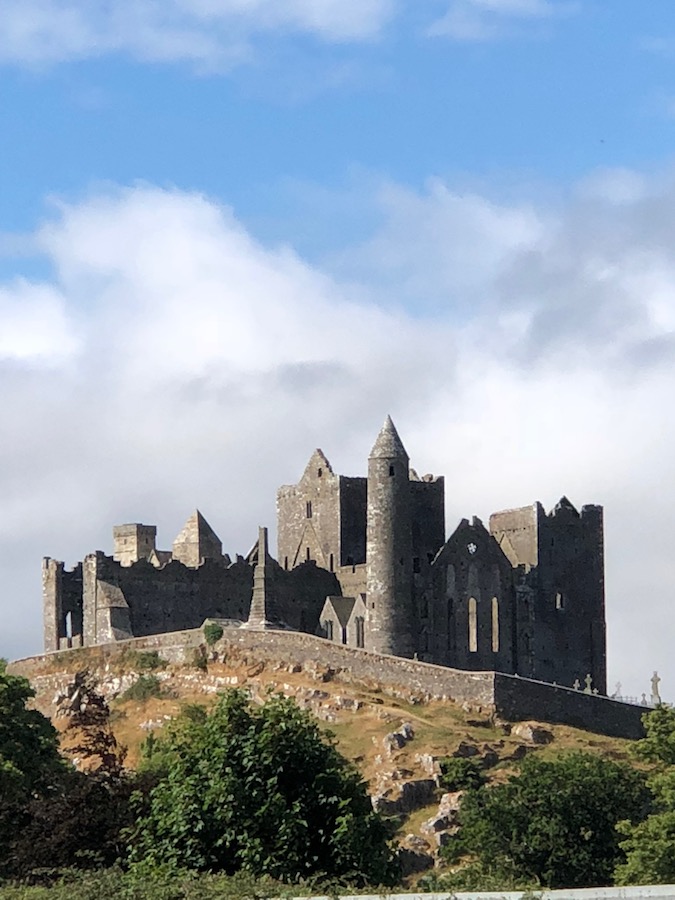 It seems that in Ireland, there are always ruins of something just down the road. It's one of the magical things about this land.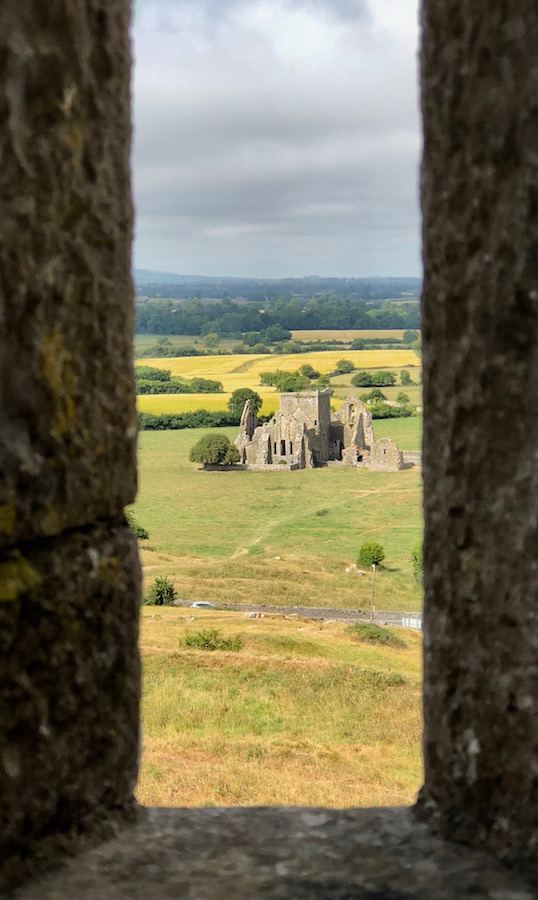 Anyway, I digress … due to its strategic location, the Rock (the church, not the celebrity) has been the source of feuds and battles between clans for hundreds of years. St. Patrick actually passed through and baptized King Aengus in approximately 450 A.D. Like I said, it has been around a long time.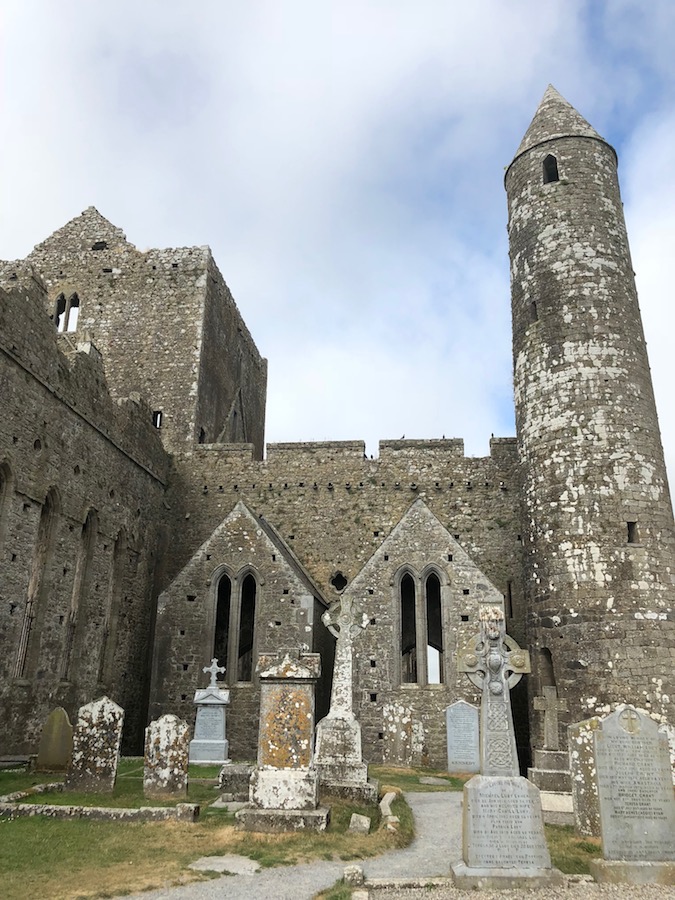 I paid a bit extra at admission to get a tour of the chapel opened only once every hour or so due to the deteriorating frescos. Not sure it was worth it, because there is very little left of the original frescoes, but it was only a couple of euros and I think the money goes to preservation.
Apparently, Rick Steves is much more impressed with this sight than I am because he dedicates six pages to the Rock in his Best of Ireland guide book. Maybe I just wasn't in a church mood today or maybe I was just tired and cranky, because I just wasn't feeling it. I did love the view from the top of the hill out over the farmland below, and I also found the cemetery interesting. So, all was not lost.
We met back at the bus for another fairly long drive into County Cork to Blarney Castle.  While Blarney Castle is as big of a tourist trap as Ireland has, I actually enjoyed my time walking the grounds. 
Our bus driver had advised against standing in line to "kiss the Blarney Stone" because it would take about 90-120 minutes to get through the line.  He also told us that he had some mates that had regaled him with stories about urinating on the stone in their youth, so he questioned the hygienic nature of touching your lips to the stone.  I weighed the options and decided that I could live without kissing the stone.  After all, kissing the stone is meant to give the kisser the gift of eloquence and I already have the gift of gab (or so I'm told).
But as I said, the grounds are spectacular and there's a bit of something for everyone. Unfortunately, the Poison Garden didn't have much in bloom, but there were several other gardens around that were awash with color.
Walking along the forest route, I came across a Faery Tree, a Witch's lair and other mystical clearings.
I walked out by the lake, stumbling upon Blarney House, which made me think of curling up with a copy of my favorite copy of Pride and Prejudice. You could almost envision Mr. Darcy coming around the corner into the garden.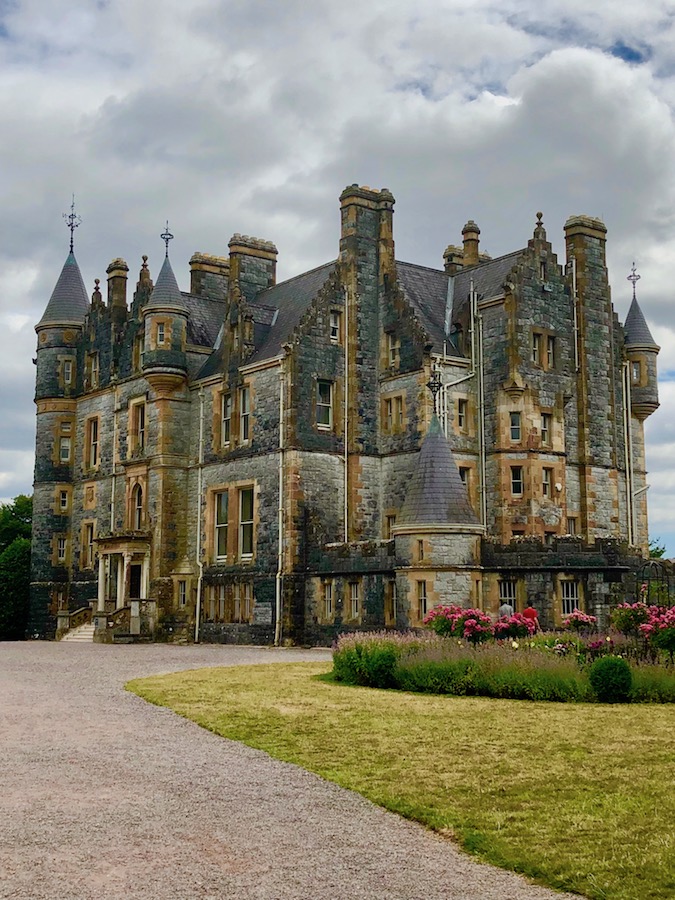 Unfortunately, Blarney House wasn't open because it was Sunday.  I've been told that it's beautiful inside but has several old paintings of people whose eyes seem to move with you as you walk down corridors.  Creepy. 
I would definitely come back to Blarney, if just to walk through the gardens and forest areas, particularly when everything is in bloom.  Speaking of which, if you come and are prone to allergies, bring your medications or inhalers – I didn't and got a bit wheezy with all the pollen and tree stuff in the air.
If you're a shopper, there's a big shopping area just outside the gates of the Castle grounds, most of which is Irish woolens and other Irish-centric souvenirs. The cafeteria/restaurant/pub does a strong business with all the buses that pull in. I can vouch that their scones are pretty good.
And then we were back on the bus headed back to Dublin, with everyone hunkering down into their seats for a nap, except the driver and me. I think I was so tired, I couldn't sleep. As I was futzing around with a photo editing program on my iPhone, I received a text from one of our great friends that he had just arrived in Dublin on business and would be around for 24 hours. We made plans to get together for dinner once I got back to the city.
We met a few hours later at the Bank on College Green, a restaurant situated in, of all things, an old bank. It was really busy, but we were able to snag a high top table in the bar with excellent views of the stained glass and intricate interior plasterwork.
The views were lovely, the food was great (really excellent, creamy seafood chowder) and the company was the best. We talked for hours. It's so nice that wait staff don't try to rush you out after you've finished your meal, so that you can linger over post-meal conversation.
We eventually took our conversation out onto the street because we were intent on making it to Murphy's for ice cream before it closed. In all the times my friend has been in Dublin, he has never once gone for ice cream at Murphy's. I can't imagine why, but now, I think he is obsessed. He agreed that it was the best he's ever had.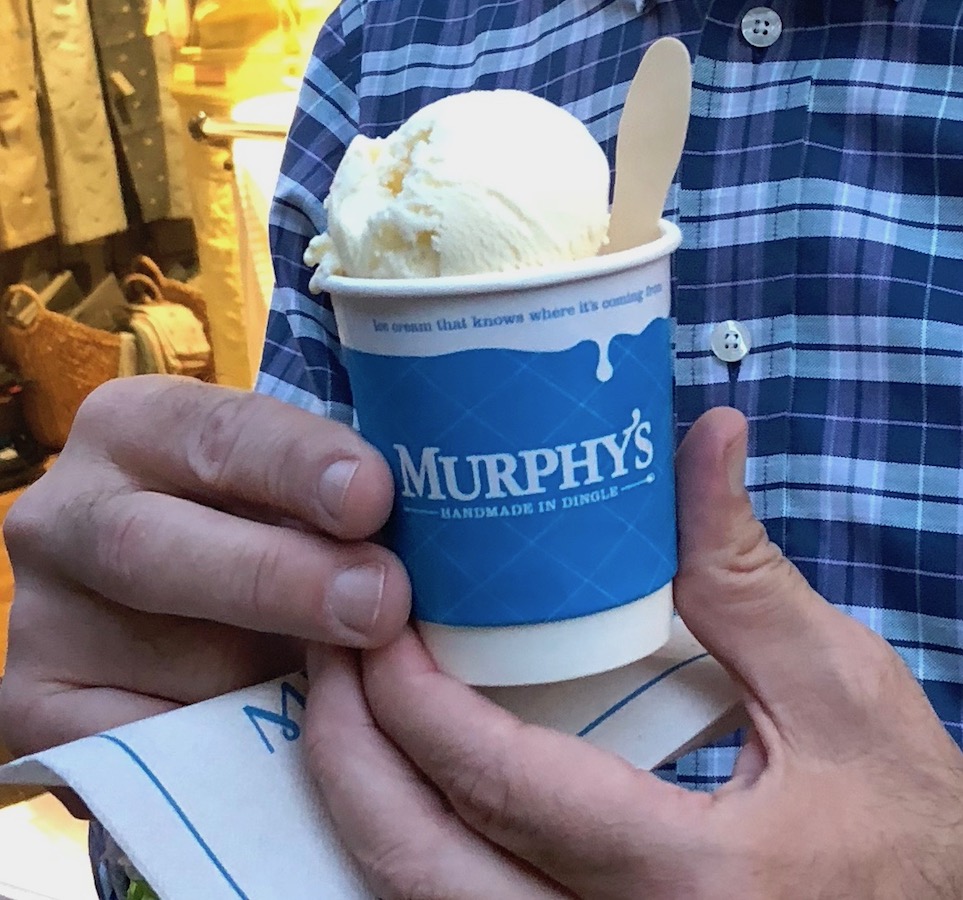 I indulged in small scoops of the butterscotch and caramelized brown bread flavors and I think he had scoops of the same two flavors plus a scoop of Dingle Sea Salt. So worth the calories – and a reason to return to Dublin (like I really need anymore reasons to return).
And then we walked and talked some more, stopping to FaceTime our significant others. It was so fun to meet up with a friend while so far from home. One more full day for me and then I return home. Insert sad emoji face here.