July 12-13, 2018
You know the day is starting well when you are the only person in the TSA pre-check line, you are serenaded in the terminal by a shoeshine guy with an awesome tenor range, the AMEX Centurion Lounge receptionist greets you with "Welcome Back, Miss Lynn" because she says she remembers you are always nice to the staff, and you capture a chaise lounge in the quiet area despite the lounge being packed. Well, all that, and the fact that you are at the airport heading on a solo adventure to Ireland.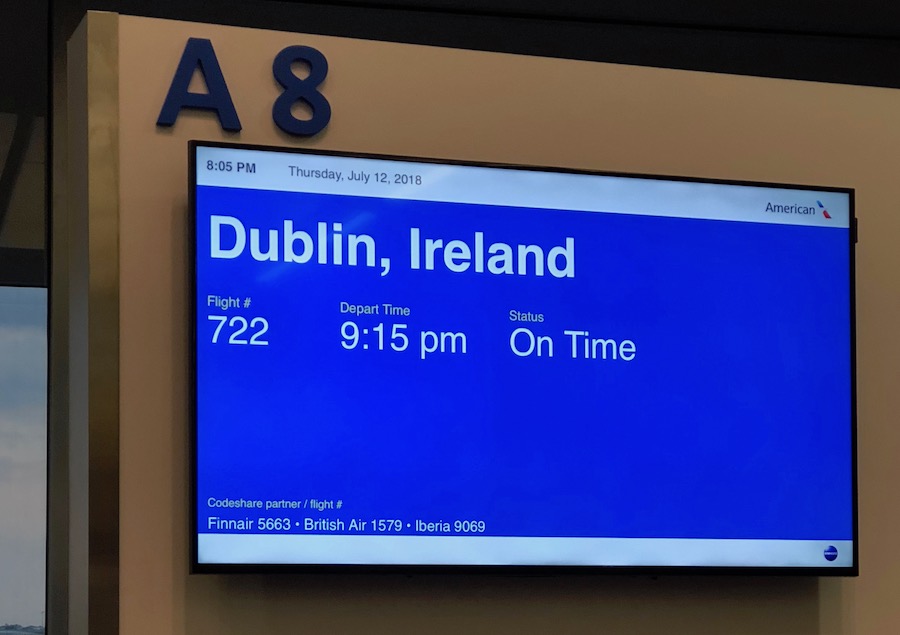 Yes, I'm well aware that I have a significant other at home, and no, I didn't forget to bring him along. Every once in a while, a girl's just got to indulge her wanderlust with an independent, one-woman journey. Steven (my hubby) is exceptionally supportive of me traveling by myself. Of course, he worries about my safety. But I've got a pretty good head on my shoulders and am very aware of my surroundings. I don't get drunk with strangers (in fact, I don't get drunk with anyone since alcohol is not my thing). And, I don't walk down unknown alleys in the dark. I promise, for the next two weeks, I will be careful. Rant over.
I had several hours to waste before each of my flights. The Dallas Centurion Lounge provided me with free breakfast, a place to nap, a 15-minute massage, and lunch.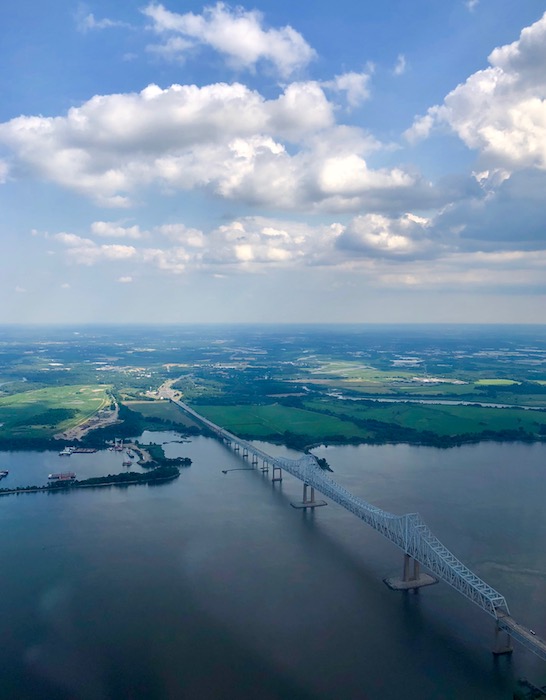 Likewise, the Philadelphia Centurion Lounge provided me with a comfortable chair, wi-fi, dinner-time snacks, and great people watching opportunities. All three meals courtesy of the Centurion Lounge – Nice! Unfortunately, I didn't get another chance to nap and didn't catch more than ten winks on the flight. Upon landing in Dublin, I was a little dozy.
Dublin has some odd feelings about Uber, so I caught a taxi to my hotel. My energy level was restored because my driver was exuberant about his city and excited to provide me with tips on where to go and what to do. His information proved to be helpful right off the bat as I had a couple of hours to kill before my room at the Hilton Garden Inn Custom House would be ready for check-in.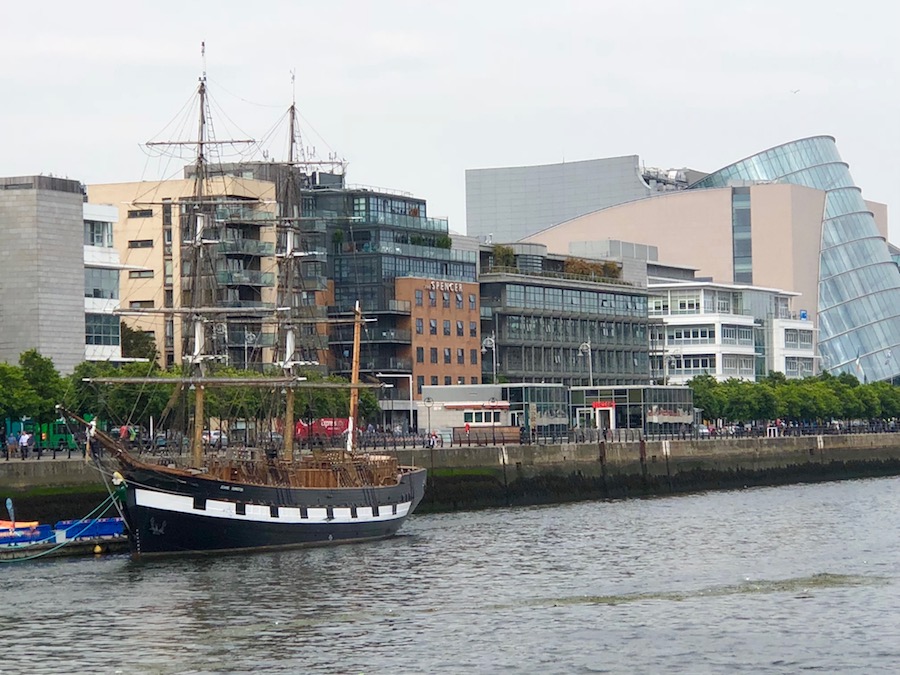 A walk along the River Liffey just outside the door of my hotel was an easy way to get comfortable with a new city. I'm always amazed by how modern and old architecture melds together in a comforting way.
Not too far down the pathway was the Famine Memorial recently visited by Prince Harry and Meghan Markle. The haunting sculpture depicts the plight of the Irish famine victims. Even though it's out in the open in the Docklands, there's an eerie calm that wafts among the statues.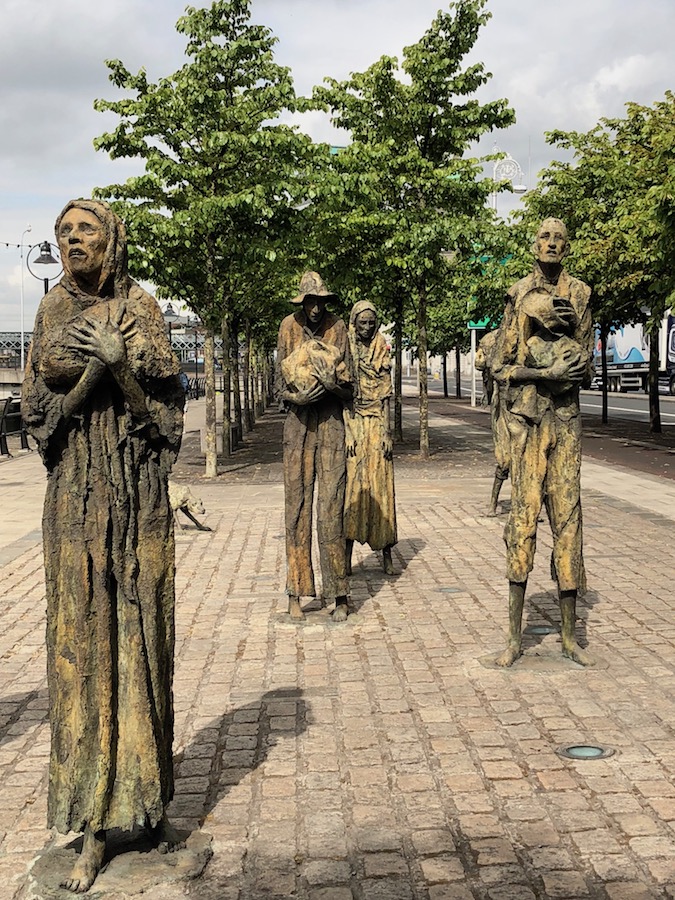 The EPIC Museum, a museum dedicated to Irish emigrants was nearby and warrants a visit. One of its thought-provoking slogans is "We all come from somewhere." Through multi-media and interactive exhibits, the museum introduces the long history of emigration from Ireland and the effects Irish emigration has had on the world during different times in history. It was a fascinating way to spend a little of my wait time and keep out of the humidity.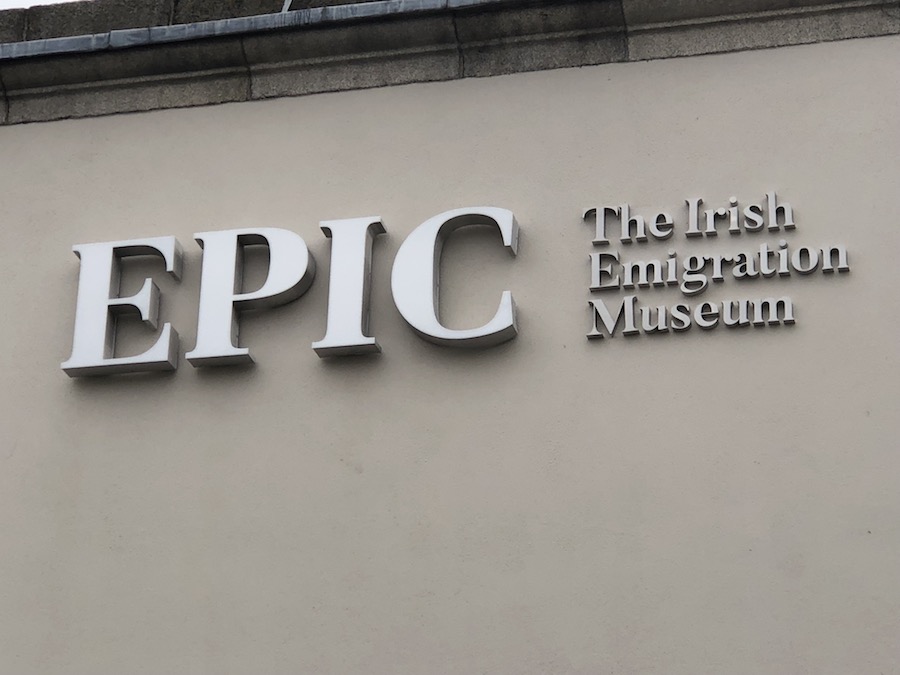 I took a nap in my room to blast away some of the cobwebs in my head. Then, I went off in search of the main gate of Trinity College, where I was to meet the guide for the Dublin Historical Walking Tour. While the "main gate" of the College is nothing to write home about, once through the door, the main campus is lovely. I'll be revisiting Trinity later in my trip for a look at the Book of Kells. For movie buffs, they filmed some of the Harry Potter movies at Trinity (possibly some of the Hogwarts interior shots).

The guide was a fountain of historical information; so much information I can't remember half of it. He talked about wars, revolutions, political struggles, oppression, emigration, etc. for two full hours while leading us around for about 3.5 miles. We saw cathedrals, castles, Norman ruins, more churches, the lively Temple Bar area, the Parliament, and so many other sites – too many to mention. While it was fun and a great way to get my steps in for the day (19,179 at last count), it was a little too much information in such a short time.
After a walk back to my room to rest my weary feet, I ventured out again to have an "Irish" meal. Yelp didn't let me down – I treated myself to a hearty dinner at Callagher's Boxty. What is a boxty you ask? Well, it is an Irish potato pancake, much like a thick crepe, wrapped around tasty ingredients, and topped with a creamy sauce.
One of the great things about solo travel is that even if a restaurant is busy, they can fit a single person at the bar. I had a front-row seat to the bartender's show; he busily poured pints of the dozen or so beers on tap (as well as other drinks).
I asked my very handsome waiter with the smooth Irish accent (duh, I'm in Ireland) for a dinner recommendation. I started with a silky carrot, zucchini, and coriander soup. For my main, I had the corned beef and cabbage boxty smothered in a parsley cream sauce.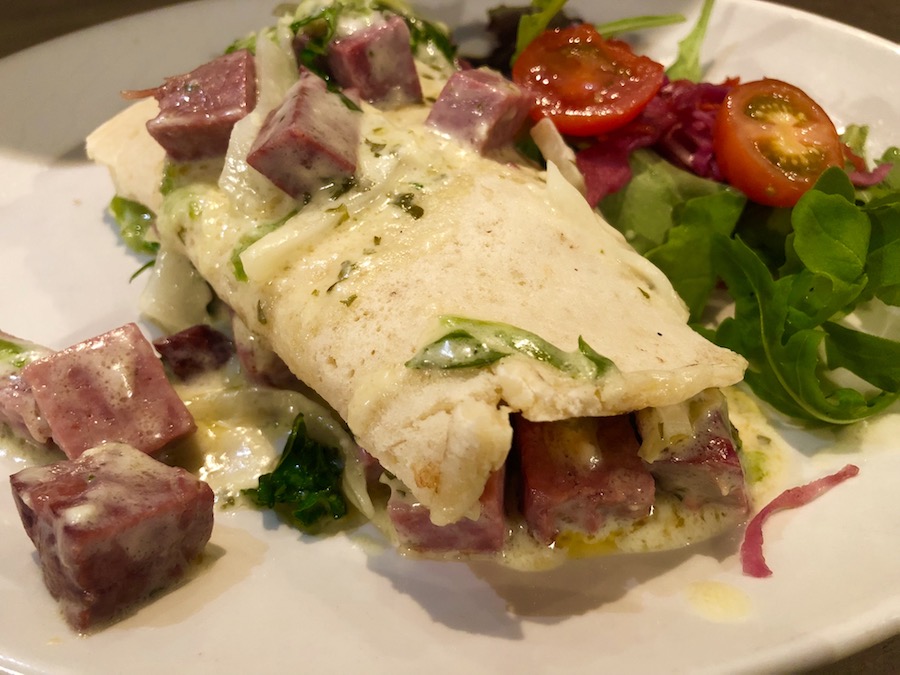 The cubes of corned beef were tender, not too fatty, and not too salty – just right. The cabbage was still a bit crisp, but tender enough to soak up the creamy goodness of the parsley sauce. The potato pancake wrapper wasn't too heavy and acted as a yummy vessel for the sauce. Oh yes, I had a side salad as well – have to have my veggies. The portions were large, so I only managed to eat half of my meal.
The long walk back to my hotel burned off at least an ounce of the corned beef. It also allowed me to wander through the gathering crowds in Temple Bar. I'm sure, were very lively later since it was Friday night. Up early tomorrow to catch a train for an out-of-town adventure.