July 15, 2018
I've made it a point to take a food tour as a way of familiarizing myself with a new city and getting a feel for the local culture.  Additionally, it's food and what's better than getting fed while learning the ins and outs of an area.  
When you think of Ireland, its food doesn't necessarily jump out at you as a reason to visit.  After all, wasn't this the home of the potato famine that almost wiped out a nation in the mid-1800s?  But, the tide is turning, particularly since the recession in 2007/2008; more chefs and restauranteurs have been fine-tuning their craft developing a bit of a foodie haven in Dublin.
Based on Internet recommendations, I chose to spend a good portion of my morning and afternoon with Delicious Dublin Tours, a company run by Ketty Quigly.  Ketty is a one-woman army out to convert people's opinions about Irish food.  What started as a tiny blog in response to friends seeking restaurant recommendations is now an award-winning food blog and a successful small tour business.  The media touts her as one of a handful of Irish foodie influencers.  She certainly knows her stuff.  Not bad for a transplanted Frenchwoman.
I met my small group at the Spire, a short 20-minute walk from my hotel, which was made a little uncomfortable by the drizzling rain that started about 5 minutes into my walk (without my rain jacket or umbrella).  Although once the location of a monument honoring Admiral Horatio Nelson that was blown up by the IRA in 1966, it is now the spot for a 398-foot tall rod of stainless steel (the Spire) representing absolutely nothing.  Really, it truly has no meaning except as a vehicle for clever names whipped up by the locals such as the Stiffy on the Liffey, the Pole in the Hole and the Stiletto in the Ghetto.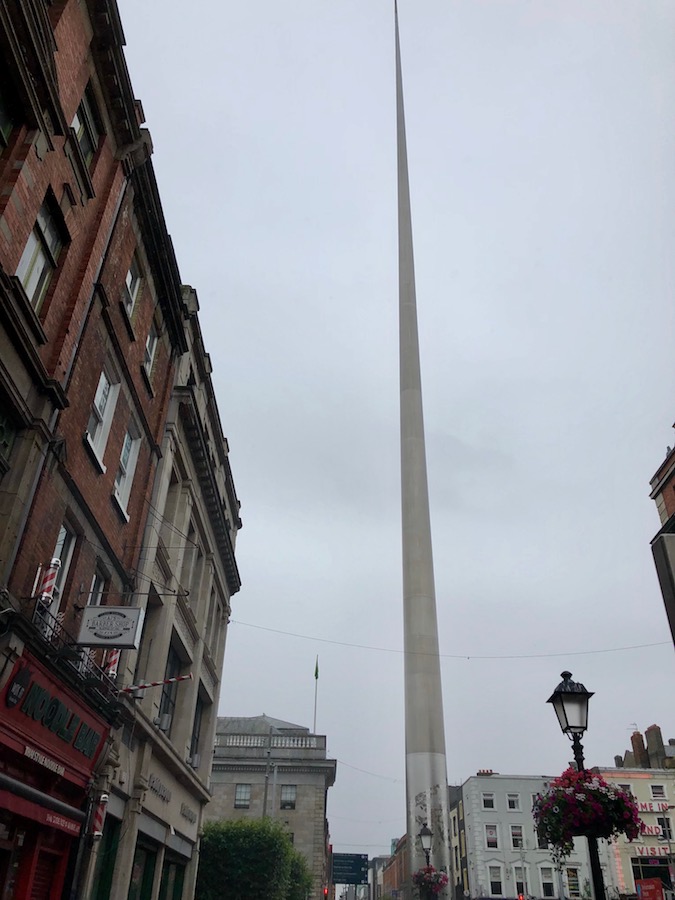 Anyway, getting back to our group, besides our fearless leader, Ketty, and me, the rest of our members consisted of Maxwell and Jeanette, a rather cute millennial couple from Munich, and Stan and Sue, a couple from Houston here on a musical tour with their church choir.  As the day wore on, it was clear that Sue and I are two peas in a pod as we seemed to like all the same food, art, history, etc.  There were many exclamations of "me too" when a like or dislike was discovered.  Of course, we also had the Texas connection binding us together.
Ketty started our morning off at Vice Coffee, one of the many independent coffee houses with which Dubliners are obsessed.  While Ireland was traditionally the No. 1 tea drinking country in the world, it has been knocked down to No. 2 (Turkey is No. 1) due mostly to the burgeoning coffee culture beloved by millennials.  Vice Coffee is a little different than other coffeehouses though because it is also a part of the space-sharing movement that came out of the recession when businesses couldn't afford rents on their own.  While the venue is Vice Coffee during the day, it turns into Wigwam, a Rum Emporium and Brazilian Kitchen at night, houses an active Ping Pong Club downstairs and used to share space with a barbershop.  A little something for everyone.

As the first stop on our tour, we were welcomed with a Colombian bean espresso and a Piccolo/Latte using a shot of the same espresso but neatly mixed with steamed milk.  I'm not much of a coffee drinker, so I was not a fan of the espresso by itself (plus the Colombian coffee was super bitter/sour tasting), but when offered in the form of a latte, it became much more palatable and was, actually, quite delicious.  If they had made it into a mocha, I probably would have been over the moon.  After two shots of espresso, my eyes were wide open and I was bouncing with energy for the remainder of the tour.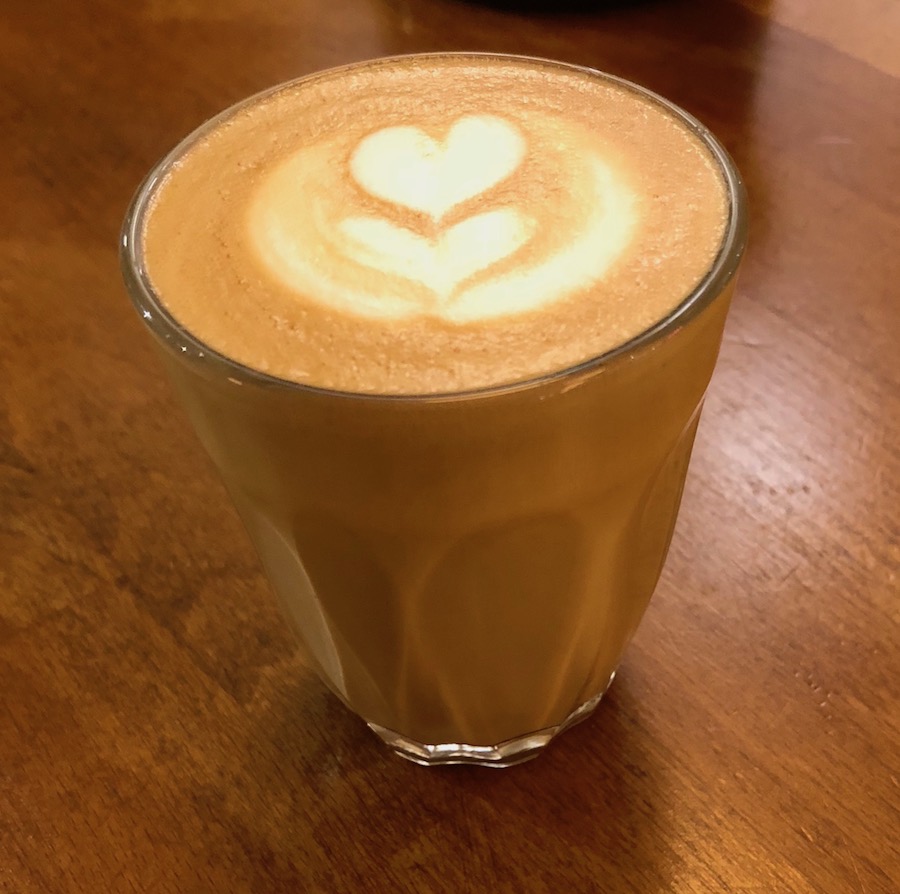 I was very familiar with our "lunch stop" – Gallagher's Boxty, the same restaurant where I ate my first night in Dublin.  Ketty explained that the owner of Boxty is working hard to make Irish food great again by not only featuring hearty Irish fare at his restaurant but by brewing great Irish craft beer (Jack Smyth brand). 
Our waiter, the same handsome gentleman from my meal two nights ago, offered us a pint of the house stout, golden or lager (the tap for the red wasn't flowing correctly), but I opted for a soda.  Everyone else at the table enjoyed their beer, which was a flavorful companion to the trio of Irish stews placed in front of each of us. 
I tried the beef and stout stew first – it had a deep earthy flavor and was chock full of veggies and tender chunks of meat.  It paired well with some of the soda bread that also came with the sampler.  Next, I tried the Dublin Coddle, a pork-based stew of tiny sausages, bacon, and pork cheek.  It was delicious and even though it was full of pork goodness (I mean, come on, there was bacon!!), it wasn't heavy and also had a hint of a sweet undertone. 
But it was the traditional lamb stew that won my heart.  Light, creamy, and belly-warming, it was complemented well by the treacle and stout bread, which was full-bodied and oh so good topped with a little bit of sweet butter (Irish, of course).  Now I can't decide whether I liked the corned beef boxty from the other night or the stew sampler better.  I might have to visit again to do a taste test tie-breaker.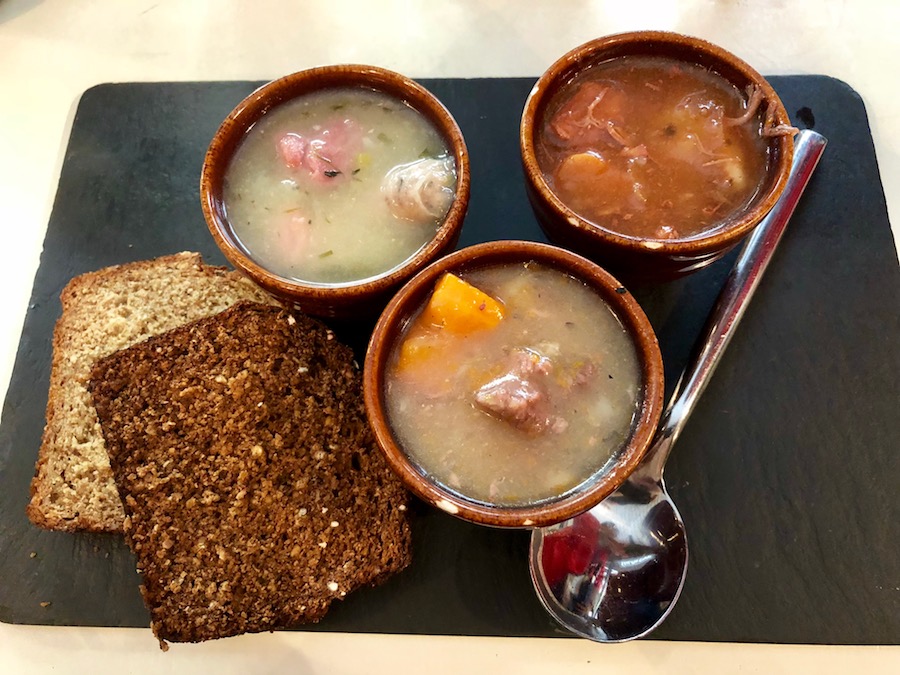 Although Ireland is an island in the middle of a bountiful ocean, seafood has never been a primary staple for its residents. Nyles, the owner of our next stop, The Klaw, is out to change the minds and palettes of Dubliners. Klaw, his original restaurant is a tiny place in the Temple Bar area (yes, there are bars in Temple Bar and, yes, it is the actual name of a bar in Temple Bar, but no, the area was not named for alcohol watering holes – Temple is the name of a guy and Bar is a bridge or walkway, there's a whole involved history to the name).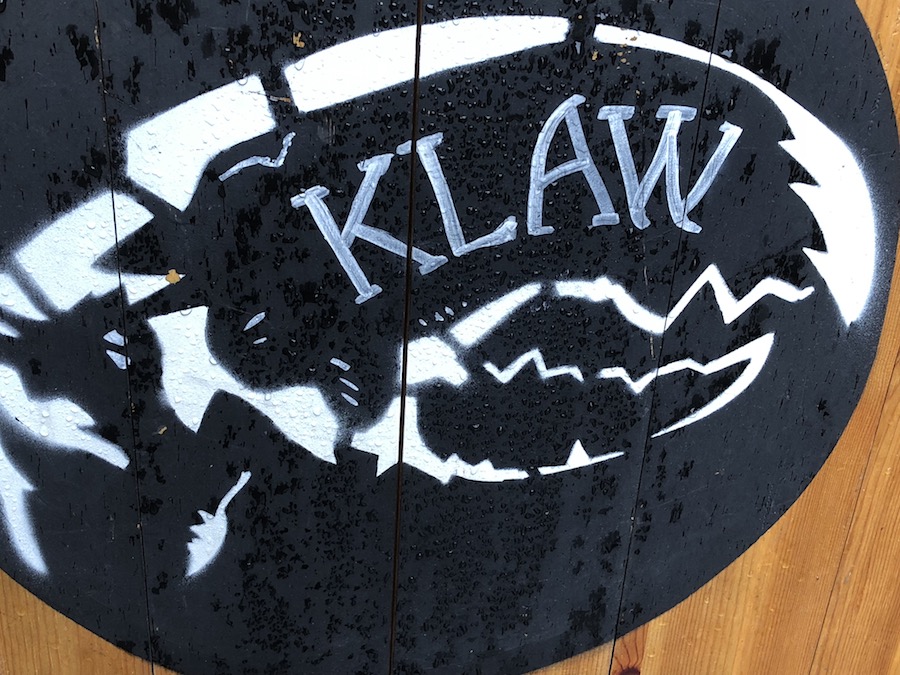 Anyway, the restaurant only has 4 tables, one of which was reserved for our party.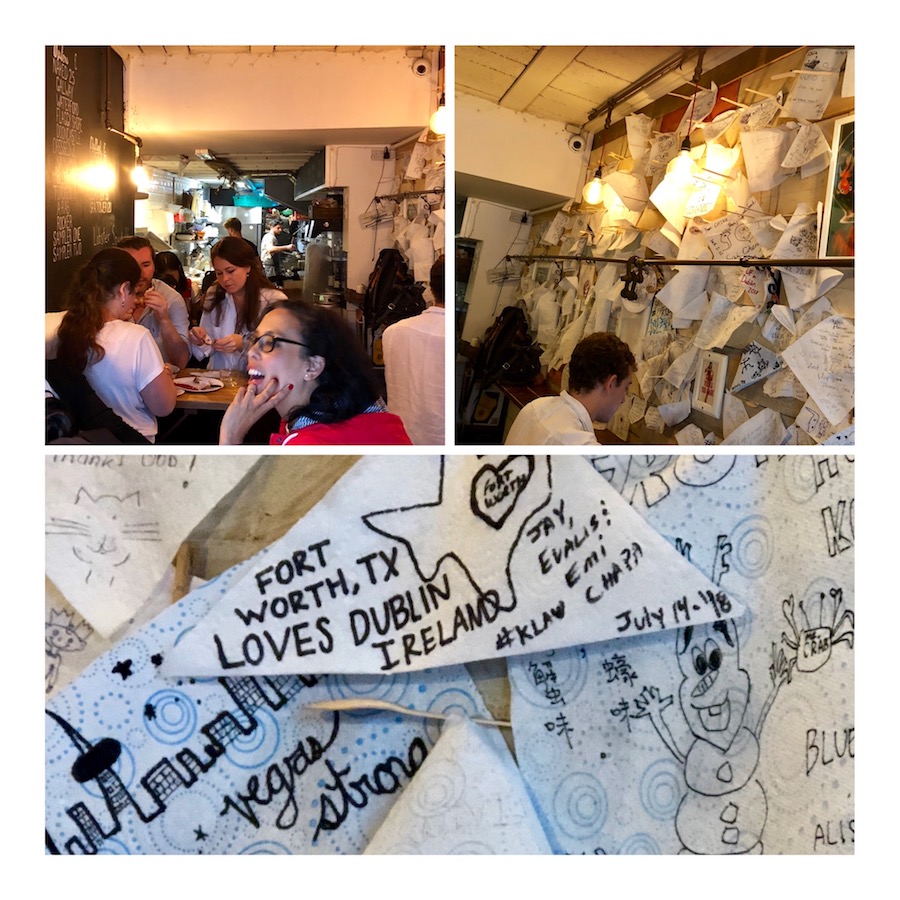 Smack dab in the middle of the table was a fresh platter of Dooncastle oysters.  While normally not a fan of raw oysters, I was game to try one after the waiter explained they take on the taste of the components of the seawater surrounding them. Dooncastle oysters benefit from the sweetness of the runoff from the beetroot crop grown nearby. 
After a squeeze of lemon and a little dab of Tabasco Verde (because I can, and do, put green Tabasco sauce on just about anything), down the hatch went the oyster.  You know what, that oyster was sweet and salty and tangy all at the same time.  Delicious! Klaw has become very popular, so Niles has opened at least two larger seafood restaurants in Dublin with plans for more.  I think the seafood tide has turned.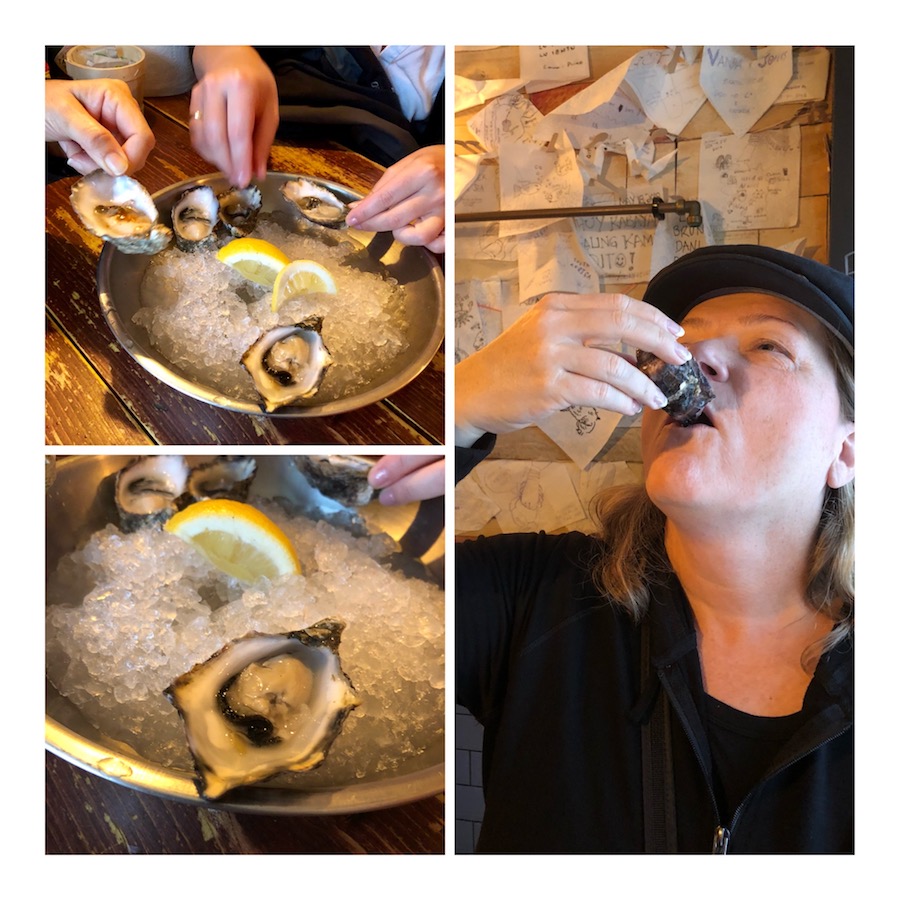 Whenever we travel, Steven and I like to check out grocery stores, whether they be a mom and pop shop, a chain or, as our next stop, a food emporium.  The motto of Fallon & Byrne is "For Food Lovers By Food Lovers."  Who wouldn't love a store that has a wall of bread, I mean really!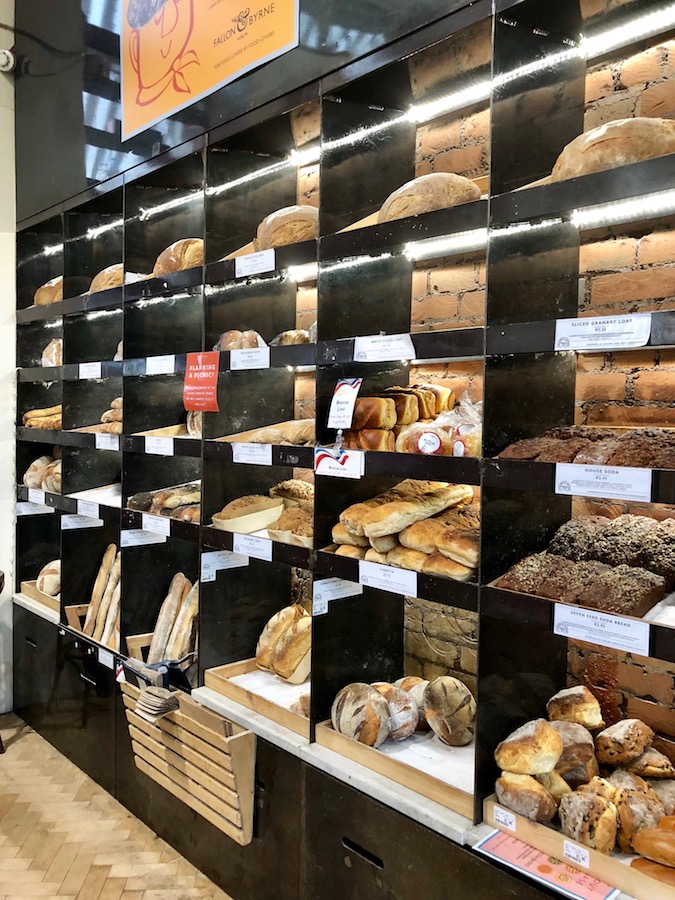 But F&B was more than just bread (although I could have stood there all day entranced by the delectable aromas). It's a little farmer's market, restaurant, wine store, butcher shop, fishmonger, international market, and artisan cheesemonger all rolled into one establishment.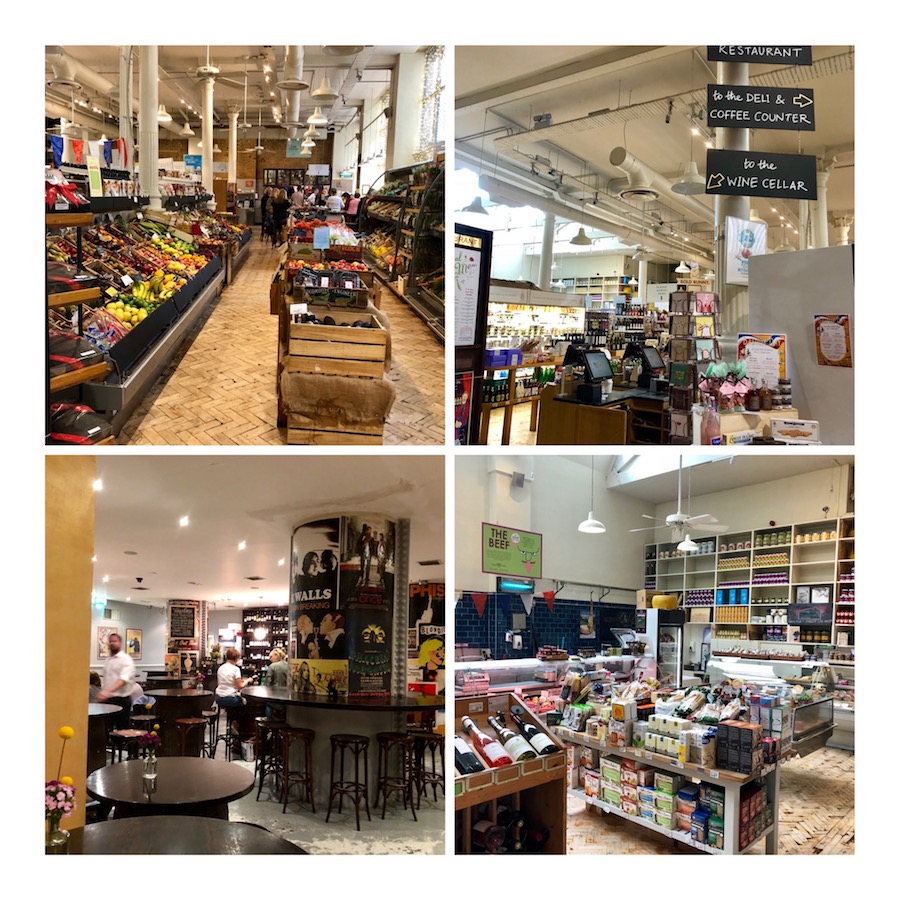 I could have spent the afternoon wandering around this one shop, but we were here to taste the cheese.
Ireland has lots of cows, which means they have lots of milk.  Everyone has heard of Irish butter (you can buy Kerry Gold at your neighborhood market), but Ireland is not known for their cheese.  That changed in the 1970s because of Veronica Steele, the doyen of Ireland's farmhouse cheese industry.  Due to an overabundance of milk production on her farm, Mrs. Steele began to make artisanal cheeses. It caught on.  Once a country devoid of tasty cheese, Ireland now produces 65 varieties. 
We tasted only three of them: San Gall from County Cork, which is much like a mild white cheddar; Rockfield, seasonal sheep cheese from County Mayo; and, Cassel blue cheese from County Clare,  Each was good, but we enjoyed the blue cheese the most.  It wasn't too tangy or sharp as some "stinky" cheese can be, but when paired with fig chutney on a fresh piece of baguette, what's not to love.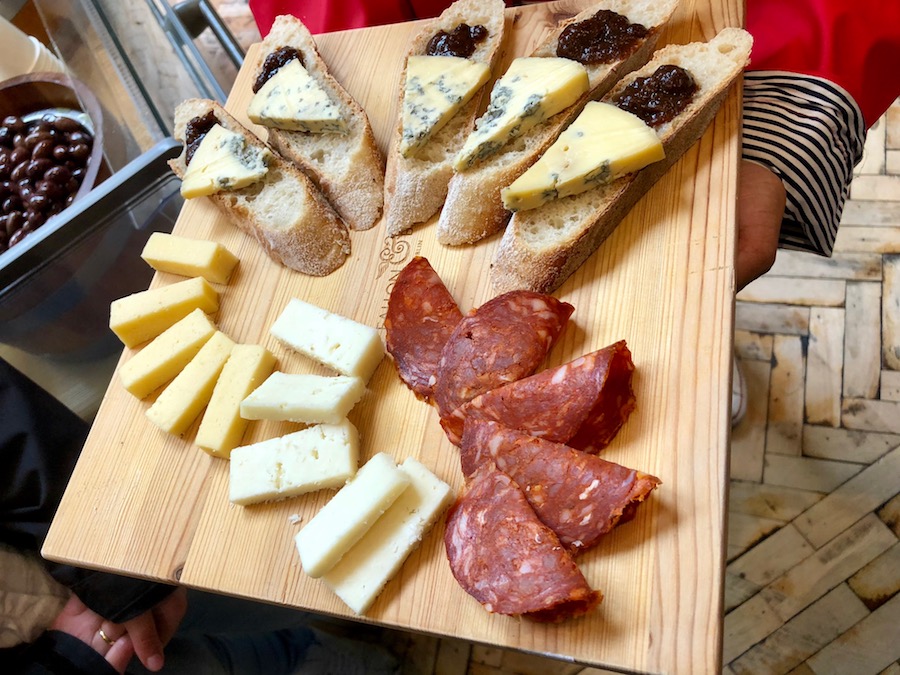 We also tasted artisanal Irish chorizo made from Irish piggies – perfect. 
Respect goes out to Mrs. Steele, who passed away in 2017, for reviving Irish cheese making.  A moment of silence in her honor…
When there's milk, there's also Ice Cream!!!  I can honestly say that I have now tasted what I believe to be the best small-batch ice cream in the world.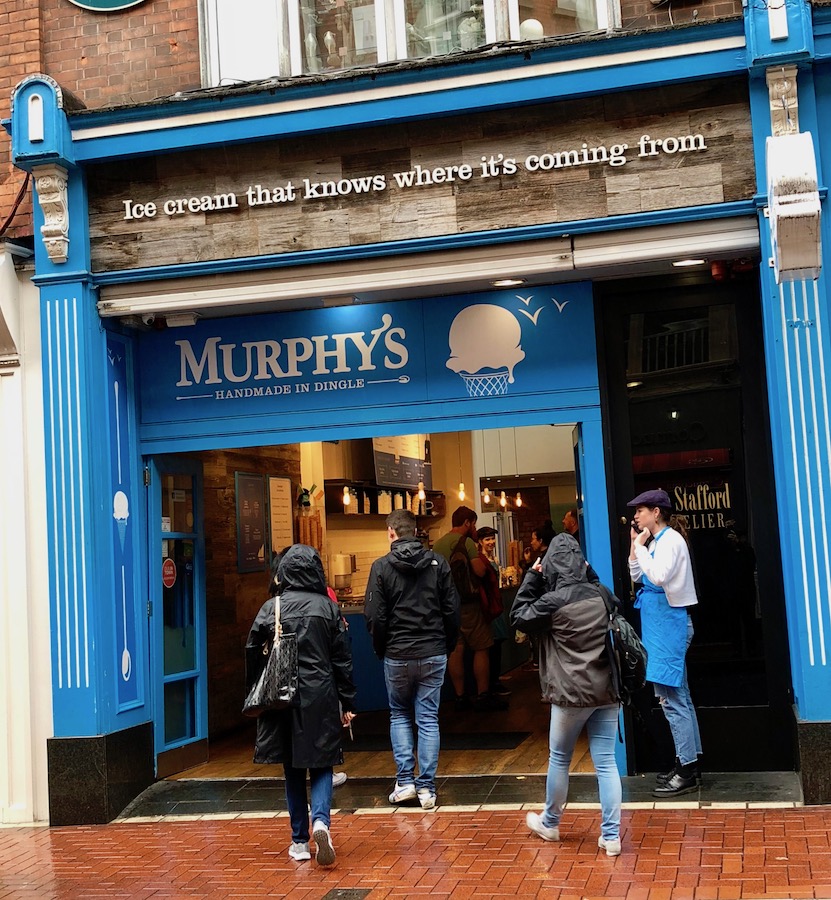 Sorry Blue Bell, you don't hold a candle to Murphy's from the County Dingle (Stan and Sue from Houston agreed). I swear that with my first bite of a mixture of the sea salt and caramelized brown bread flavors, the heavens opened and a choir of angels sang. Not kidding; it was that good.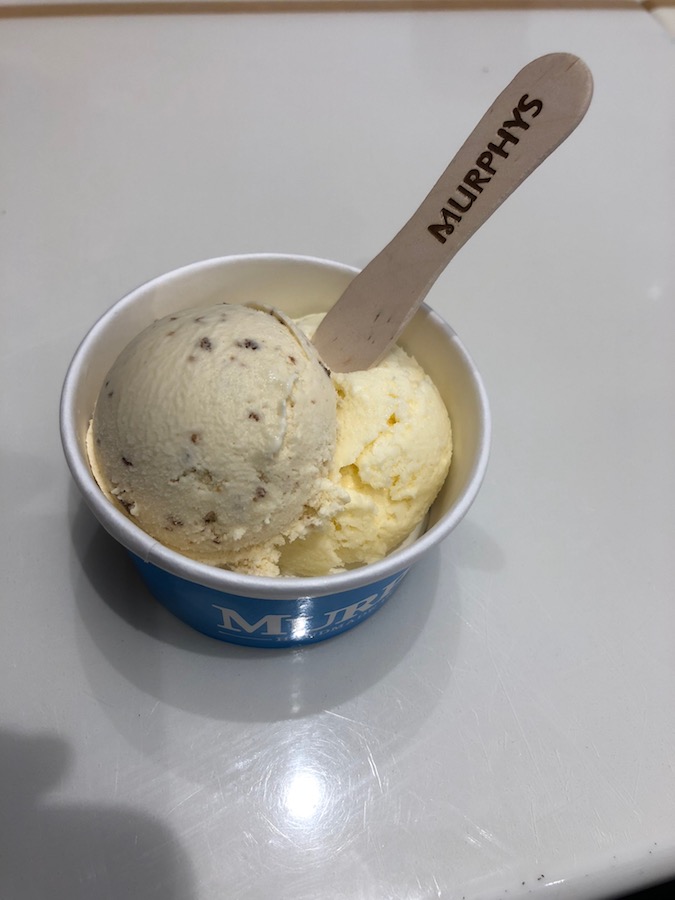 The secret to Murphy's ice cream lies within the Kerry cow, literally.  The small Kerry cow, rarer than the Giant Panda and as cute as a cow can be, provides the sweetest milk that is then mixed with the freshest of ingredients.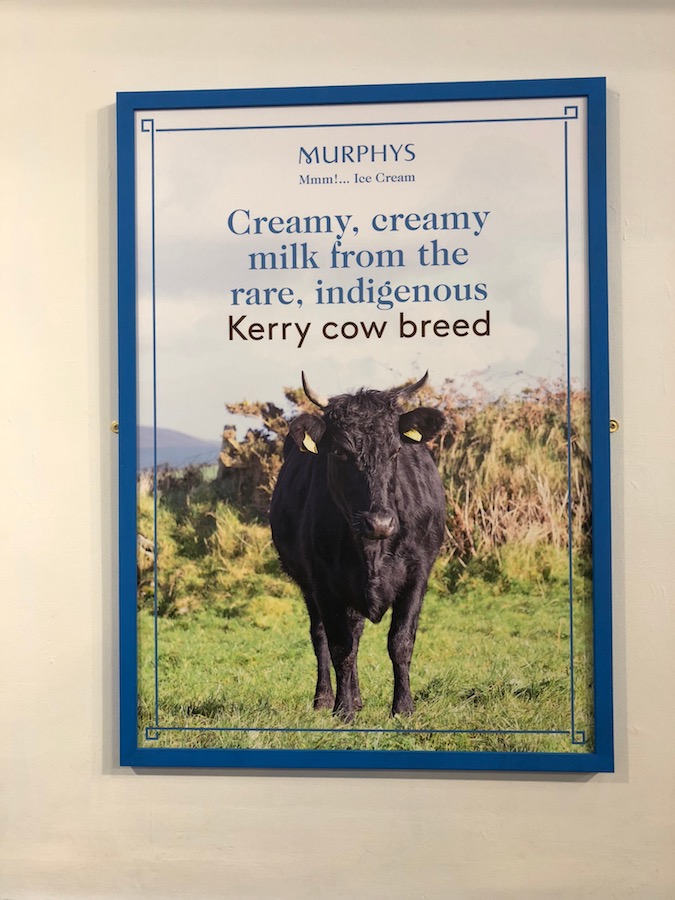 The flavors rotate with the changing seasons, but I believe, you can always get staples of the brown bread, butterscotch (oh, my, I had a taster of this flavor before leaving the store and it was to die for, if you like butterscotch that is), gin (yes, actual gin in the ice cream), and Irish cream flavors.  I'm told that their sorbets, made with real rainwater, are also out of this world delicious.  I guess I'll have to make another trip to Ireland just for the ice cream; heck, what am I saying, I have several more days in Dublin, so I think I'll have to make another trip (or two) before I leave.
Our last stop on the tour was to the Celtic Whiskey Shop, voted best whiskey purveyor in the world 6 of the last 8 years. They are also a wine shop, but let's get real, Ireland is not known for their wine (although it does have a few small batch wineries). If you like whiskey or gin, then this is the shop for you.
Although I really don't drink anymore, I used to favor a drink of Scotch every now and again (learned to like it from my dad).  Despite being a total lightweight, I joined the group in a wee nip of Dubliners, aged 10 years, a wee nip of Redbreast, aged 9-10 years, and a larger than a wee nip of Coole Swan, a blend of single malt whiskey, Belgian White Chocolate, and Madagascar vanilla.  One guess which I liked the best…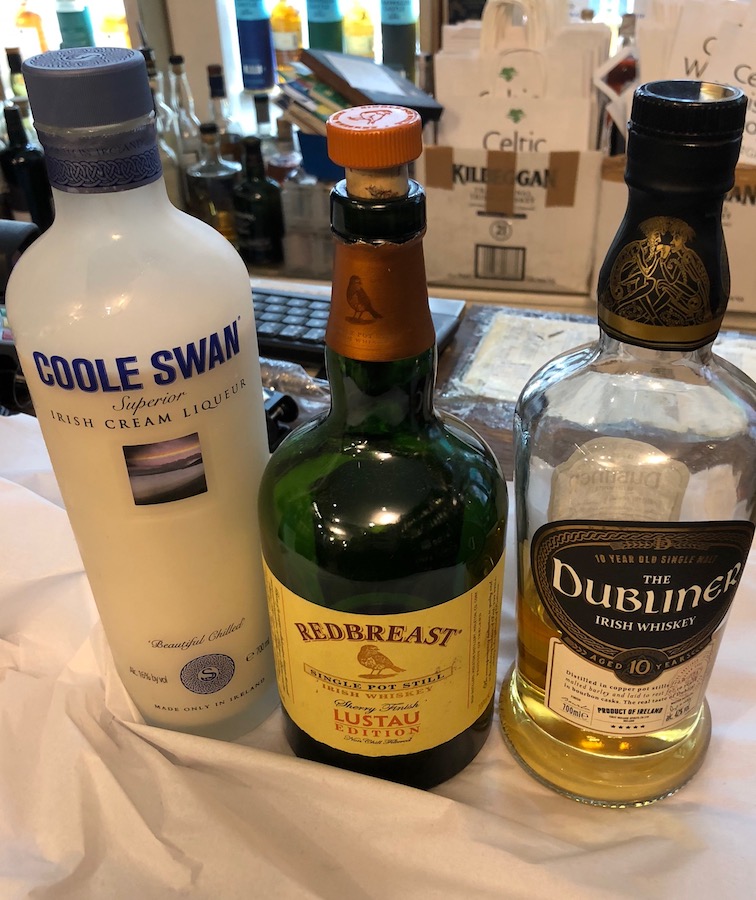 And then our wonderful food tour was over and my sufficiency had been suffonsified satisfactorily (something my grandmother Katie used to say when she was full from a good meal). 
It was still raining outside. After saying our good-byes to Ketty and the couple from Munich, Stan, Sue and I headed off in the direction of Trinity College. They were in search of a computer store because Stan forgot to bring his laptop cable. I was in search of the House of Names. 
My father's side of the family is Irish (surname Ready). My mother's side (surname Blackwell) is English, and Dutch (I only found out about the Dutch connection recently).  While here in Ireland, I decided to do a little research for the Ready name. 
The House of Names confirmed for me that our name stemmed from the name Reidy or O'Reidy and changed to Ready during emigration (in our case, to Canada). The Reidy/Ready family name anglicized from the Gaelic name O Riada.  It's just enough information to start me off on a genealogy quest when I get home.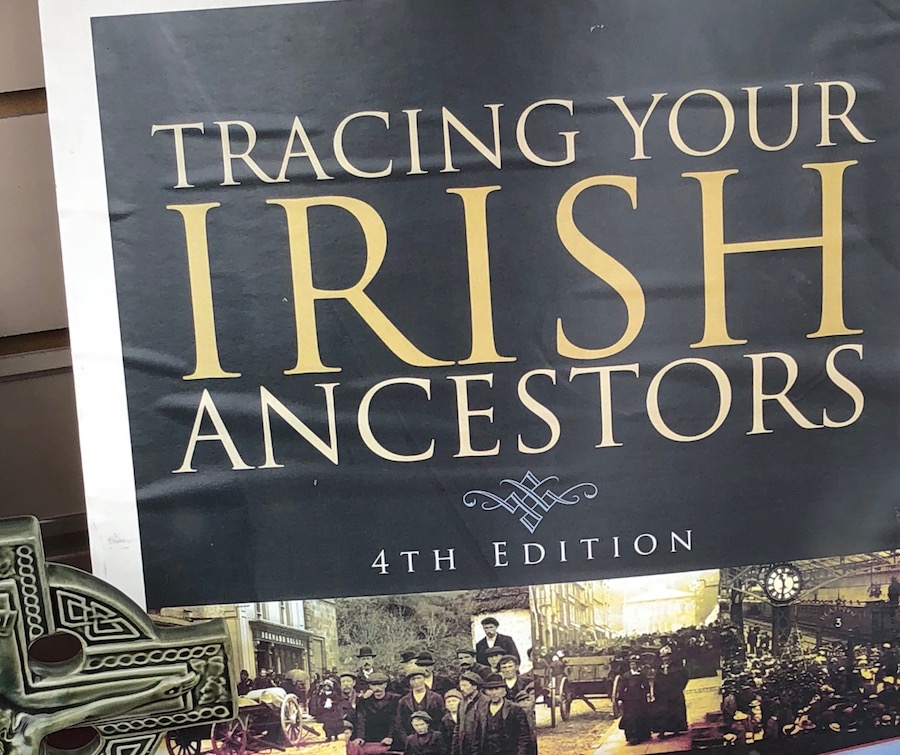 Before parting, Stan and Sue offered me their unused DoDublin pass for the Hop On Hop Off bus.  Since I'm a fan of the free, I took them up on the offer and used it to get a bit of a city tour while keeping me dry and out of the rain.  I thought it also handy that there was a bus stop in front of my hotel, so it was a majorly convenient way to get back to my room.  The photo opportunities were pretty non-existent because of the rain, but here are the few I managed to take. 
I was going to get off at the St. Patrick's Cathedral stop, but my timing wasn't good because afternoon mass had just started and the cathedral wouldn't open for visitors for another hour.  Since I wasn't going to stand out in the rain without a raincoat or umbrella, I carried onward to my hotel. 
I was cold and tired, so I decided to take a nap. I had every intention of getting back up to do some more city wandering – best-laid plans.  My rest turned into full-on sleep. Perhaps it was jet lag; maybe it was the fresh air; or, perhaps it was my full belly.  I slept right through my proposed wandering time and dinner (still full from lunch). 
Now, it's the middle of the night, and I'm wide awake.  Thank goodness my tour tomorrow morning does not start at the crack of dawn.  Off to the countryside by train again tomorrow.