August 17, 2019
After the first full breakfast of my trip (amazing the meals you skip when you have to pay for them), I jumped in a taxi and made my way to the Gdansk Airport. I had spoken to the front desk staff to determine how much time I should allow. Armed with the information that the Gdansk airport was only one terminal and relatively organized, I took their advice and arrived 1½ hours before my flight.
As I entered the terminal, I was greeted with a huge departures board, which stated that check-in for my flight had already begun and was located at stations 1-3. I looked down to the far end of the check-in desks where 1-3 was located and saw a huge crowd of people.
As I headed in that direction, I was scolding myself for not arriving earlier. With a line that long, I would be lucky to be checked-in by the cut-off – rookie mistake. As I got closer to the line, however, I noticed it was for a LOT flight. Just on the other side of the massive crowd, was the six-person line for my SAS flight. OK, still a rookie mistake, but with a happy result.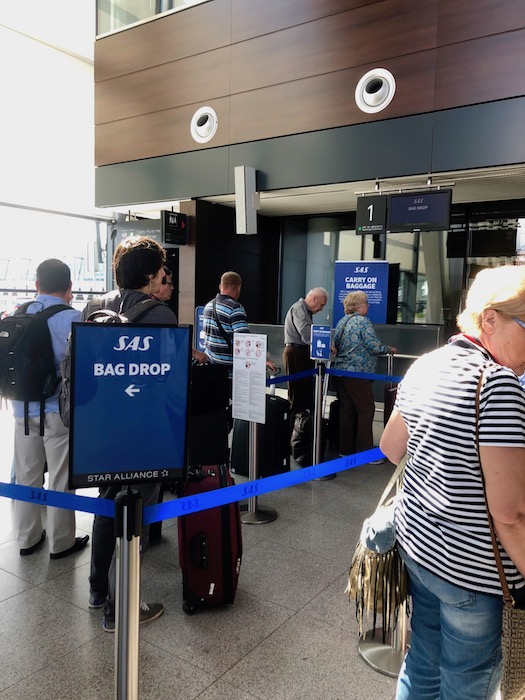 I watched the agents to determine what types of luggage they would allow as cabin baggage and what was being checked. I was a bit disheartened when a gentleman in front of me checked his backpack, which was about the size of mine. Please, please, please I prayed to the travel gods, let them pass mine through.
When it was my turn at the desk I greeted the agent very happily, handing over my passport without being asked. "Luggage to check in?" he asked. "I only have this backpack," said I. "Weigh it," he responded, pointing to the scale. I did as I was told, holding my breath (like that would make my bag any lighter). "It must be checked," he said, "it is oversized." What?!? Oversized? What?!? "Take it down to my colleague at stand 21," he continued, "she will check it." He didn't make me pay anything extra, so that was good, but what did he mean it was oversized? I'd measured it against their dimensions and it was fine – sure it was a bit over the 8kg allotment, but had he seen some of the other luggage that passed through. I was a bit outraged.
When I arrived at station 21, I was met by a nice young lady standing next to a sign that read "odd-sized luggage." Ah, maybe he meant odd-sized instead of overweight, not that it made checking in my bag any better. Since the straps on my backpack aren't removable, I tied them up the best I could, said a little prayer and waved goodbye to it as it moved back into the bowels of the airport via the conveyor belt. I may be jinxed myself earlier by removing everything valuable from my big backpack into my little backpack, but as it disappeared around the dark corner, I was happy I had the foresight.
The next step of my journey at the airport was to go through immigration/security. Turns out, there was no immigration since I am flying EU country to EU country. There was also no TSA-like agent to check my boarding pass. Instead, they have an automated turnstile where you scan your boarding card; if it's valid, the light turns green and the turnstile doors slide open. If your card is not valid, the light turns red and someone rushes over to apprehend the offending person. My light turned green.
Security was a breeze, except there was a large group of children in front of me who had obviously never flown before because they weren't clear on the concept of what they needed to remove from their bags. Through security was the omnipresent large duty-free area – how much duty-free do people buy anyway?!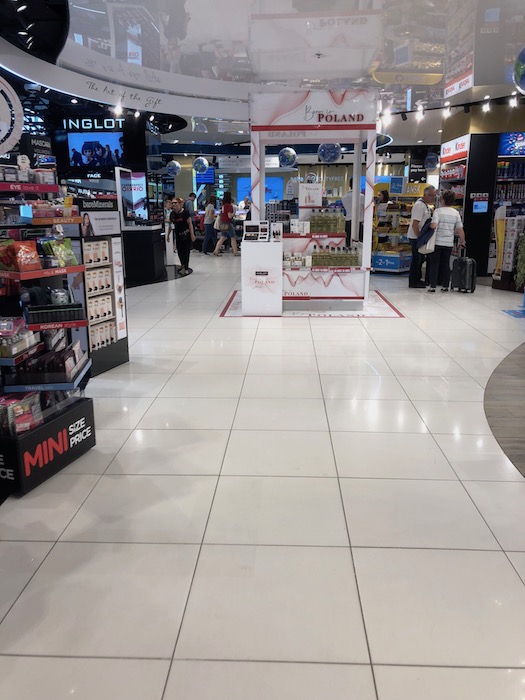 All-in-all, I was checked-in and through security in plenty of time prior to my flight. So much time, that I wandered up and down the halls of the clean, spacious terminal several times. It's relatively small as it only has 20-25 gates. I was full from breakfast, but dining options are limited to one sit-down restaurant and a couple of fast food joints – including McDonald's (it's everywhere).
The only drama in the airport was that they changed our gate assignment – from 16 to 15. This seemed to confuse a bunch of travelers. I'm not sure why – it was the gate right next door, 10 feet away. I'd hate to see how they react to an actual traumatic event.
I was a bit surprised when the gate agent called rows 1-10 to board first. I hadn't bought a priority ticket. It soon came clear as we descended the stairs and walked to the rear of the AirNordica (cheap version of SAS) prop plane.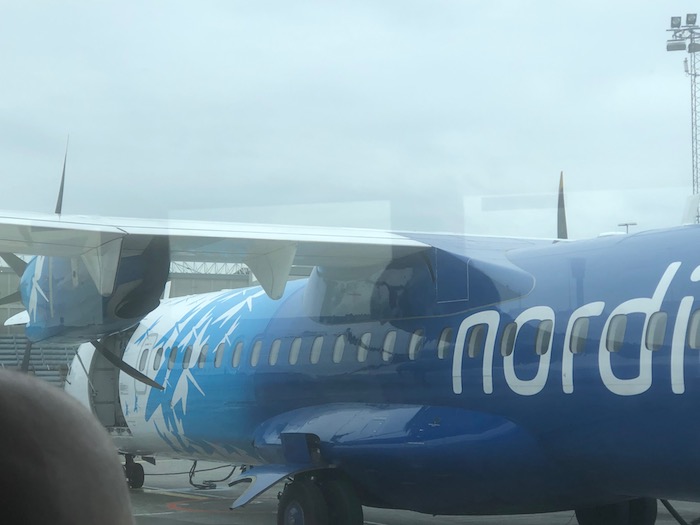 The reason why rows 1-10 go first is that there is no entry/exit from the front. Yes, there is an emergency exit, but nothing else. I don't think I've ever been on a commercial flight where there is no entry from the front … or a bathroom in the front.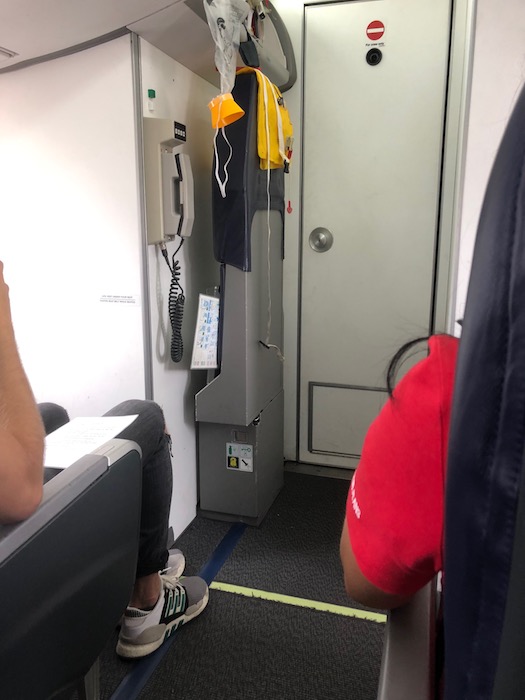 We were first to board, but since we were in the front without an exit, we would be the very last to disembark. Oh well, things could be worse. The seats were relatively comfortable and it was only an hour-long flight. If you fly this airline, make sure you bring your own water and snacks if you need them. The only choices available are tea or coffee. Oh, and go to the restroom before boarding. One bathroom for the entire flight meant it was busy the minute the seatbelt sign was switched off until it was switched back on.
Copenhagen's airport is much larger than Gdansk's. We were bussed to the terminal. Most people were connecting, so only a few of us followed the signs to the baggage carousels.
I had started saying my prayers immediately upon landing that my backpack had made it. I just wasn't sure whether it would come out on the regular carousel or the "odd-sized" one. Luckily, the two carousels were close to each other so that I could watch both simultaneously. I let out a silent whoop as I spied my backpack coming up the conveyor belt to the regular carousel.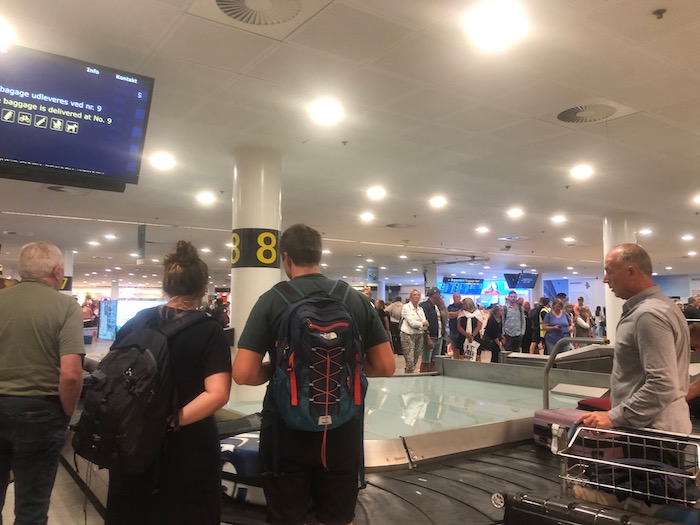 I hadn't scheduled a pickup from the airport, so I quickly Googled the price of a taxi to my hotel (Denmark is expensive, so I'm using hotel points here as well). Then, I thought to Google what my hotel recommended for transport. How had I missed that they were part of a shuttle service arrangement?! I followed the directions to where the pickup was supposed to be, found a sign confirming I was in the right place and only waited a few minutes before I jumped on the bus. The bus cost 1/10th of what a taxi would have set me back.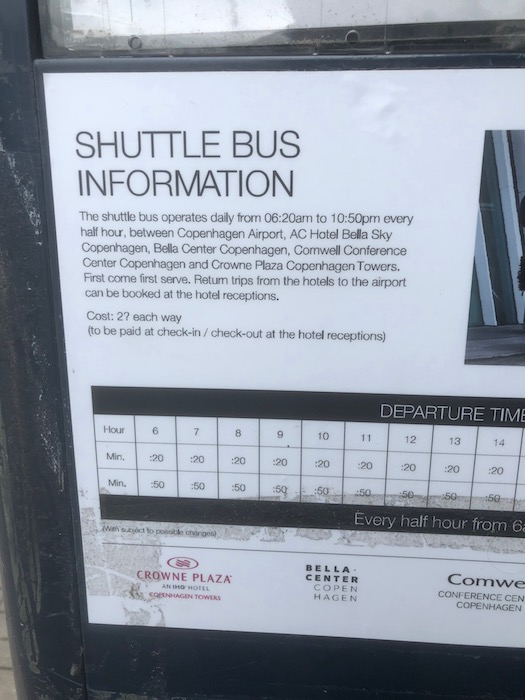 Hotel check-in was efficient. I was given an upgrade to a King-bedded room with a tub/shower and, because I'm an elite IHG member, I was offered bonus points or full access to the club level. Club level access won out in the end since it includes a full breakfast in the morning, tapas snacks in the evening, and all the water and soda a girl can drink. Much, much better than 600 points. In a city that is as expensive as Copenhagen, when you can get free meals and drinks, you take it.
It was when I started to unpack that I noticed that the lock on the main section of my backpack was missing. I had asked the agent who checked me in whether I needed to remove the locks and he told me it was unnecessary. If they needed to look in my bag, they would contact me. I had a feeling that it wasn't security that removed the lock from my bag. That suspicion was confirmed when I opened the center section to all of my compression bags open and my stuff was strewn willy-nilly throughout the bag. Someone had been looking for something. I'm guessing it was valuables or money, but they didn't find anything because I had removed everything valuable to my smaller backpack or on my person. The only thing they did take, or it dropped out of the bag when they rifled through it, was my really cool travel umbrella. (I would sorely miss that umbrella in Copenhagen.)
I felt a bit violated that someone had gone through my stuff; however, if all I'm missing at the end of the day is my awesome umbrella, I'm OK with that.
It was already early evening, so I decided not to attempt going into the city – my hotel is on the outskirts – because it would mean figuring out the metro or the train.  I also knew that the city would be a bit nuts since it was the last night of Pride Week.  This was confirmed by the group of drag queens in full makeup and costumes that I met in the club lounge. They had come back early because it was so chaotic. They showed some pictures, so it was almost like being there (well, not really). So, it was a dinner of tapas in the club lounge, a long hot bath, and sink laundry for me on my first night in Copenhagen.