August 28, 2019
When you are on walking tours, you can't always devote as much time as you want at a particular location to ponder and/or take photographs. I chose to take today to go back to a few of the sights I'd seen and wander a bit through the streets to discover others I hadn't yet seen.
On my way to St. Peter's Church to go to the top of the tower, I stopped in at St. John's church, which is just behind it. I had no idea that St. John's was the oldest church in Riga or that it had such stunning stained glass. To be honest, from the outside standing in the alley, it's not much to look at, but I would have missed out had I not gone inside. These are the little treasures of a trip – something you just stumble upon.
I had thought St. Peter's was still an active church, but it seems that it has become more of an event venue in recent years. It is also home of the tower/steeple from which you can get spectacular 360-degree views of the city (one of the others, the Radisson Blu, will be checked out on my next visit). One of the nice things about the tower is that it has an elevator to the top. Yay, no stairs – well, actually only a flight and a half of stairs. While waiting for the elevator to whisk me to the top, there was a short movie playing of some of the reconstruction of the church following its demolition in WWII.

While the trip up to the top is a bit pricey (9 euros), I was not disappointed with the views. The sun placement wasn't the best for photographs and there was a huge cruise ship pulling in that marred a bit of the view, but it was spectacular none the less. I could have stayed on top for hours, but for that little thing that keeps me from going to the top of incredibly tall things – my fear of heights.
Back down on the ground, I made my way through the interior of St. Peter's, which is full of old religious icons, historical artifacts, and new exhibits. The current exhibit showcased Latvian folkcraft.
My photographs of Town Hall and the House of Blackheads from the other day weren't great, so I made my way over to Town Hall Square. Although the sun placement was once again not favorable for photographs of the famous guild, I at least got some of the details. The buildings are far more beautiful in person.
Upon arriving at the Dome Cathedral (also known as the Riga Cathedral), I noticed that there was an organ concert in 30 minutes. I know it sounds peculiar, but I love to hear the sound of an organ, a choir, or a soloist when I'm in a grand church. There's something so soothing and uplifting about music in churches with fantastic acoustics. Although the price for the 30-minute concert was steep (10 euros), I gladly handed it over before entering the cathedral.
The interior of the church is lovely but ranges on the side of more minimal adornment. The exterior of the church is also quite lovely, but I really wasn't there for the sights…
I was in the church mainly for the organ, and what a gorgeous one it was. It is the second-largest pipe organ in Latvia and was initially constructed in 1882. One hundred years later, it underwent massive reconstruction but retained its look and sound. And what sounds emanate from its 6,718 pipes! Internationally recognized Latvian organist Liene Andreta Kalnciema played four pieces – two by Johann Sebastian Bach and one each by Charles-Marie Widor and Sigfrid Karg-Elert. I was blown away by her mastery. It was really cool that the concert organizer had set a camera in the loft so that we could see her fingers sweeping over the four manuals. It was an incredible 30 minutes and worth every penny of the 10 euros.
On my way out of the church after the concert, I made a wrong turn and wound up in a side portico storing some trash and construction items. But, in looking up (like I often do), I saw the incredibly detailed brick and plasterwork of the ceiling and a lovely piece of an old fresco above the door. Again, it's the little surprises that make exploring so fun and exciting.
In my research, I read that Riga had a castle, but I hadn't heard much about it since I arrived. I went off in search of it, walking along the river and passing several small churches. Upon arrival at the castle, I found out why it's not marketed well – much of it is closed for extensive renovation and reconstruction, presumably from a devastating fire in 2013.
After investigating the castle, I continued to walk. I meandered by the Three Brothers again, still unable to get a clear photograph ( I must come in the late afternoon next time), and then found myself by the edge of sand volleyball courts that had been set up in the square on the other side of the Dome Cathedral. An interesting placement for a sports court made of sand.
I found myself walking down the alley toward the iconic 1212 Restorans – one of the most photographed storefronts due to its whimsical painted facades. My stomach rumbled since I hadn't eaten all day, so I decided to stop for a late lunch, early dinner. I knew it was pricey, but I hadn't spent much on food in Riga (supermarket dining), so I could splurge.
The front patio was full, so I walked inside and was met by a young male waiter. I got the once over and he waved me to a small table in the corner. I asked if I could dine on the upper terrace. He hesitated, did another once over, looked at his fellow waiter, and said, "have you seen the menu?" I responded, "is there something wrong with it?" "Of course not, but it's primarily game and …" "Expensive?" said I. "Well, yes …" was the response. "Great, I'll go up then," I responded. "And it's 56 steps up to the top," said he. "Super, I'll see you up there."
Although the reception was far from welcoming, at this point, I was not going to give in to whatever was making him try to dissuade me from eating at the restaurant. I'm not sure whether he didn't like the way I was dressed (shirt, pants, sandals), didn't think I could afford to eat there, or didn't like that I was a party of one.
There was only one other table occupied on the terrace – three Russian men eating and drinking like there was no tomorrow. I took a table off to the side with a nice view of the top of the cathedral.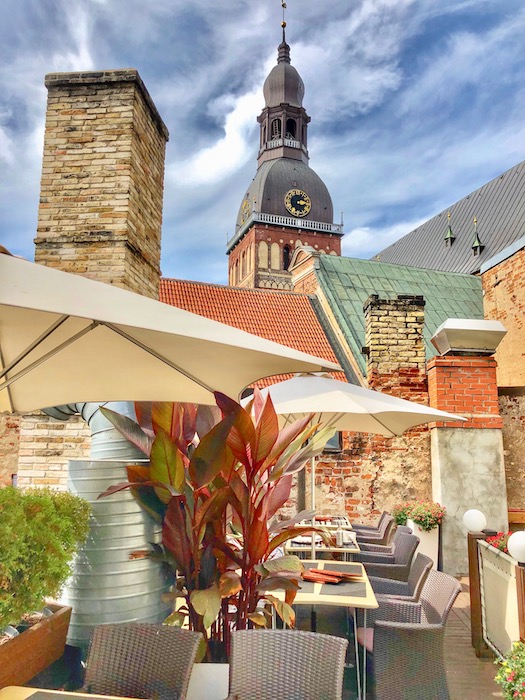 A lovely young woman actually waited on me and was quite attentive. The menu was quite diversified but with a heavy slant toward game meat and fowl. I chose the elk goulash with wild mushrooms as an appetizer and the "fried salmon fillet with cranberry icing, served with potato-nut puree and seasonal mushroom sauce" as my main course. The goulash was the best elk dish I've ever had (yes, I've eaten a few) and didn't have any gamey aftertaste. Teamed up with the rich taste of the dark rye bread, the dish was hearty and would be my pick on a cold autumn afternoon. The salmon was equally as succulent, although I'm not sure what the warm cherry tomato was doing on the plate as it added nothing to the flavor profile and looked odd. The "cranberry icing" was a chunky cranberry sauce that added just the right tart note to the dish. The mushroom sauce was amazing and worthy of scraping every last drop off the plate.

Despite the uncomfortable start to my dining experience, I was glad that I had chosen 1212 for my splurge. Oh, and the cost for the entire meal with a fancy bottle of still water? $40. I also gave the waitress a nice tip since she had treated me with respect. My welcoming party was nowhere in sight as I paid the bill downstairs.
I was very excited about my evening activity – the ballet. I've loved ballet ever since I was a young child and saw The Nutcracker. I even dabbled with classes for a few years in my childhood. When we travel, Steven and I have attended performances of both ballet and Opera. We have fond memories of one particular ballet in Budapest (or was it Prague) and an opera in Vienna.
An der schönen blauen Donau/Pie Zilas Donavas/At The Blue Danube was first performed in Riga in 1957 and has become one of the cornerstones of the Latvian Ballet.  Johann Strauss' music inspired the ballet, which is all about choices between love and duty, dreams and reality. I'd never seen this ballet and was full of anticipation.
I arrived at the Opera House early, as usual, and had time to look around. While it wasn't the most elaborate Opera House that I've been in, it was cozy and didn't suffer from gold leaf overuse. The seats are a little too squished together for comfort. During the first act, I had a rather large Russian gentleman (based on the language he spoke on his phone) seated to the left of me who half sat in my lap. I'm not sure where he disappeared to but during the first intermission, he left and never returned. Maybe my lap wasn't comfortable.
The music, played by the live orchestra, was lovely. The ballet itself was well danced by the soloists and the chorus. The two female leads danced beautifully. I felt a little sorry for the male lead because his talent was not showcased – his role was more as a prop for his two leading ladies. I know this isn't unusual, but I felt he could have been given a few more chances to show his athleticism. Overall, I liked the story and the performance.
Unfortunately, or fortunately, photography is not allowed during performances. It is strictly monitored. I did manage, however, to snap a few covert photographs of the curtain call.
Night had fallen by the time we left the Opera House. It and the other buildings of Riga were lit up against the night sky. It's my last night in Riga, but I am buoyed by the knowledge that I'll be returning in a few months. Tomorrow I head to my last country on this trip, Lithuania.