August 20, 2019
I was looking forward to taking the train from Copenhagen to Stockholm because I had read that the scenery was really nice.  However, while on one of my walking tours, a woman told me that there had been a fire on one of the main tracks between Malmo and Stockholm earlier in the week and trips were being rerouted.  I hadn't received any type of email from the railway (apparently no one did), so I logged on to see whether there was any information.  When I looked at my ticket online, there was a note that my trip had been "disrupted" and that I could choose to reroute or cancel for a refund.  When I checked on the rerouting option, my five hour trip to Stockholm would take anywhere from 8 to 11 hours depending on the availability of buses to go around the area affected by the fire.  When I found a one-hour flight that cost $10 more than my train ticket, I canceled for a refund and booked the flight.
After a leisurely brunch, I checked out of my room and waited on the shuttle to the airport. The front desk had forgotten to charge me for the round trip shuttle and when I pointed it out to him, he merely shrugged his shoulders and told me not to worry about it. The now free shuttle got me to the airport in record time.
Just inside the entrance into the departure area of Copenhagen Airport, there are terminals where you check yourself in (even if you've checked in online) and print a boarding pass. Then, if you need to check bags, you go to the bag drop desks assigned to your flight. Since my bags fit within the dimensions of the carry-on for Norwegian shuttle, I decided to risk the fact that my big backpack was just over the weight maximum. Thus, there was no need for me to stand in the line for bag drop. I was on my way to security within five minutes of arrival to the terminal.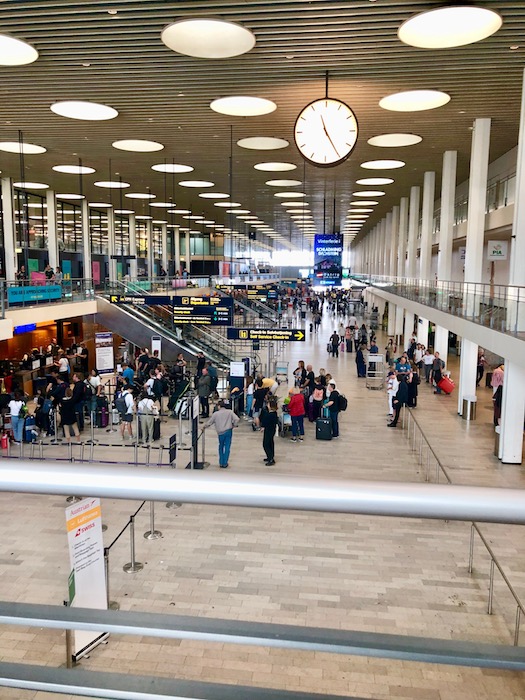 Like Gdansk, Copenhagen's airport has the scan terminals that allow you into the security lanes – no TSA-type agents. The security line moved a little slowly, but the agents were careful to make sure everyone had removed what was needed to comply with the regulations, so there weren't very many people being pulled out of line to have their bags hand checked. I guess in the long run, this is efficient.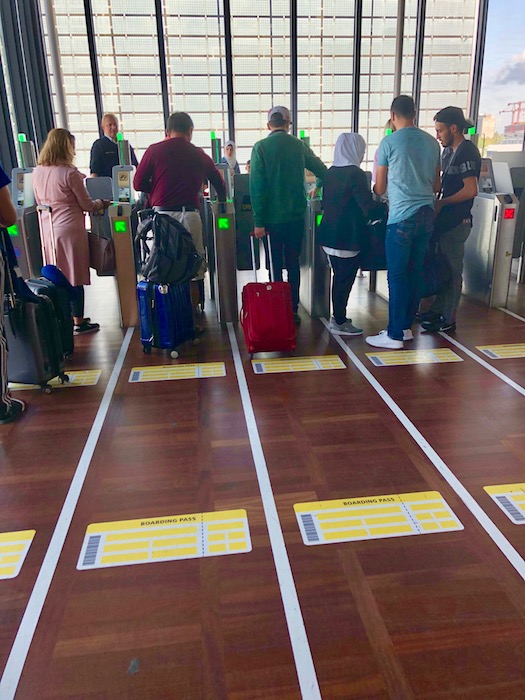 Once through security, I checked the board to see whether my flight had been assigned a gate – it hadn't.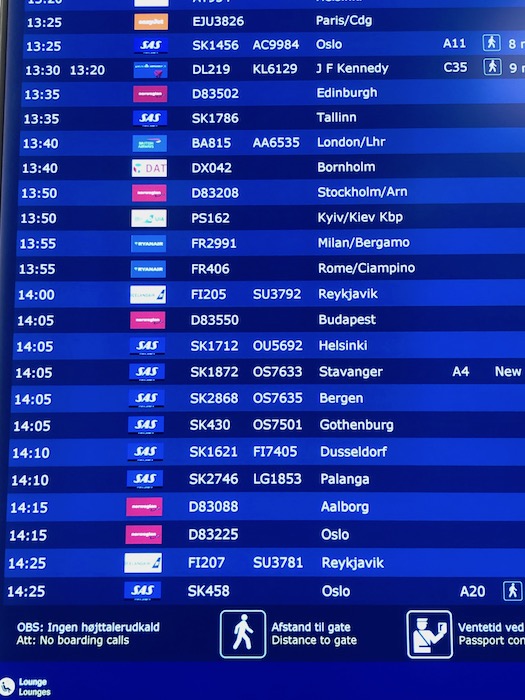 I noted that A and B gates were in one direction, and C-F gates were in another.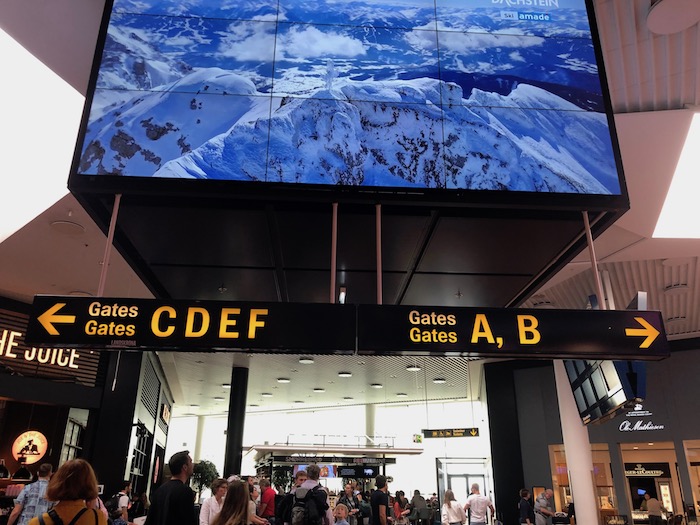 I knew that if I headed off in the direction of A and B, I'd wind up having to double-back because I would surely be assigned to F (Murphy's Law).  I found a seat not too far from the large duty-free area, but just far enough away so as not to smell the mish-mosh of perfumes they sell.  I would wait in the middle until my gate was assigned.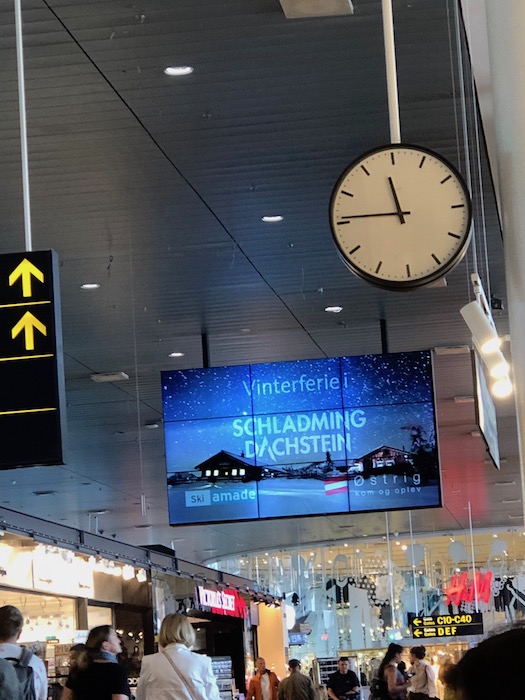 When I had passed through the duty-free area I saw little carts, which I assumed were to hold shopping purchases.  As I sat waiting for my gate, I noticed that everyone seemed to be using the carts to hold their carry-ons.  Apparently, I was the only one who thought they were actually shopping carts – I seemed to be the only one hauling around my carry-on bags.
Just over five minutes into my vigil, my cellphone binged with a notification – it was from Norwegian assigning my flight to an A gate.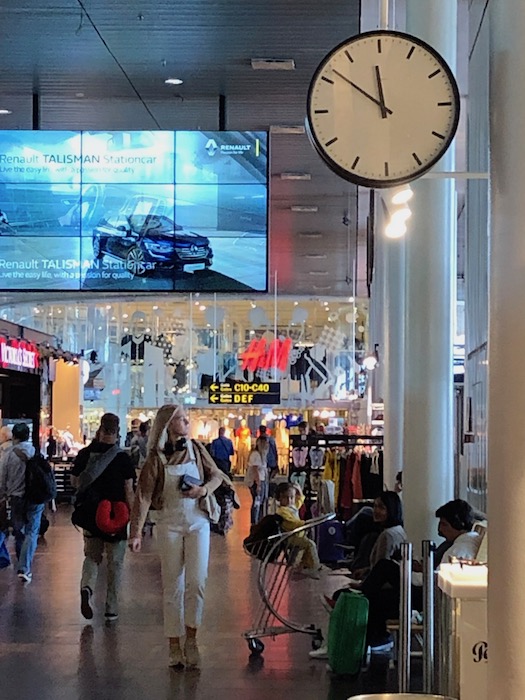 I checked the board, but it still didn't have an assignment.  Since the notification was directly from the airline, I decided to believe that they knew what they were doing and headed toward the A gates.  Flights going out of the A and B gates must have more high rollers, because the shops on the way were much more high-end – well, at least until I got to the Lego Store.  Who actually goes to an airport and buys expensive stuff.  Legos I understand, but does anyone really go to an airport to buy a $500 pair of pants?
As I walked closer to the gate, I checked my Priority Pass app to see if there were any lounges where I could wait, since I still had loads of time before takeoff.  I had a choice of three – I selected the one just beyond the Lego store.  It was clean, not crowded, had plenty of power outlets, clean restrooms, and served refreshments.  What more could you ask for?!
Since I was intent on carrying on both my big and small backpacks, when booking my ticket, I spent an additional $10 to upgrade my ticket to include priority boarding. I was hoping that if I was in the priority group, the gate agent might not care if my backpack was a little heavy (the airline has been known to weigh bags). My bet paid off, the agent didn't even bat an eye as I handed her my boarding pass and I was the first one on the airplane.
The flight was uneventful although I did have to contend with the man-spreading by the guy next to me.  He and his wife had participated in the Ironman competition and apparently they were tired.  She flopped her legs into his lap (and almost into mine) and he spread his legs as far into my space as possible and they both promptly fell deep asleep before the cabin door was closed.  It was only an hour-long flight; I dealt with it.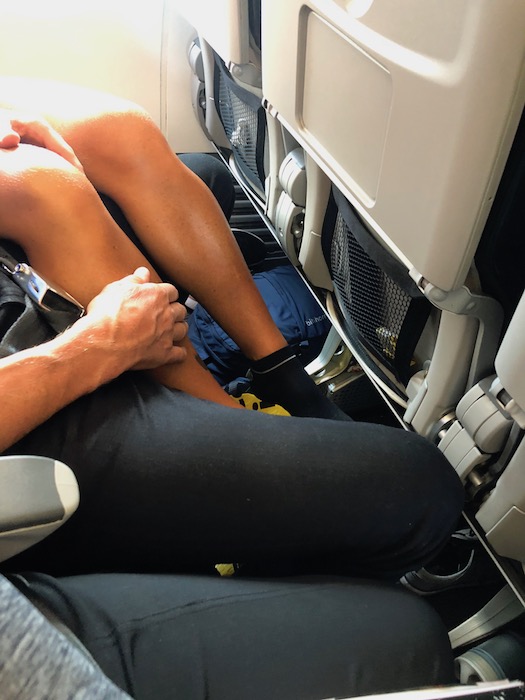 Flying over the many surrounding islands, we arrived in Stockholm early.  Since I didn't have to wait for baggage, I was outside within ten minutes.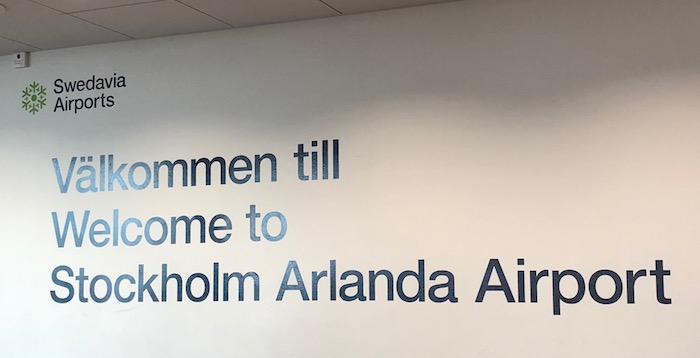 There were plenty of taxis available, but I'd checked online to see whether a taxi or Uber was cheaper – I waited for my Uber to arrive.  It wasn't cheap and I probably could have figured out taking the train into the city, but since my Airbnb was located in a residential district, I figured it would be complicated to use public transport.  It was a good decision.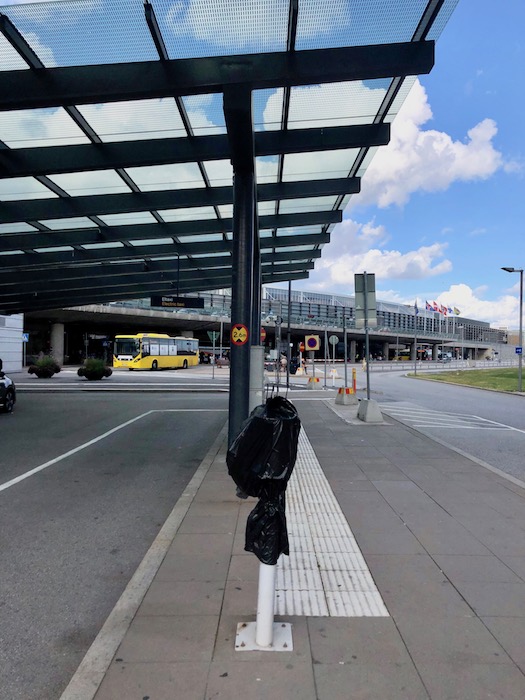 During the 45-minute ride to the apartment, I chatted with my Uber driver, who was originally from Lebanon. She and I talked about travel, things to do in Stockholm, and politics (everyone seems to want to talk politics). I double-checked the instructions from him Airbnb host and noted that my apartment was on the 18th floor. As we neared the address, I picked out the building since it was the only tall one in the area.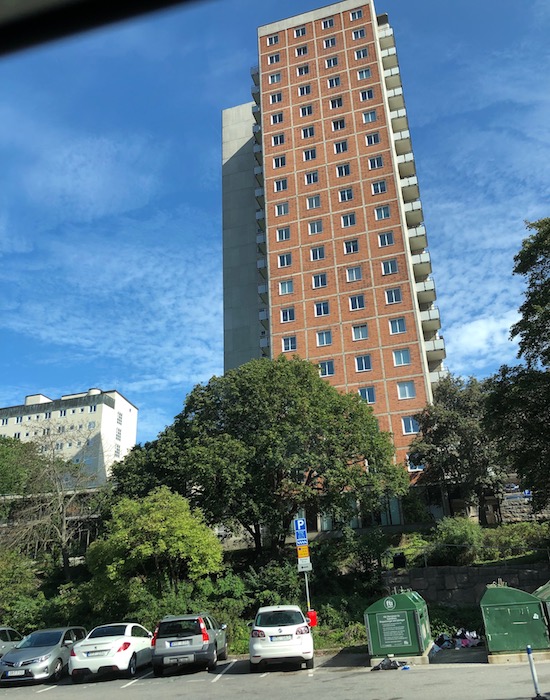 The apartment is small, but I really don't need that much space.  The most important thing, besides having a private bathroom, is that the bed is ultra-comfortable. 
Oh, and the views are pretty awesome as well.
A quick trip to the nearest supermarket and I was all set for living in Stockholm for the next several days.